ServiceMaster TEAM
The damage from disasters doesn't stop at the front door. Everything inside your home or business is also at risk for damage from fires, floods and mold. Sometimes the damage inside a building is worse than the outside. Unless these items are cleaned and restored quickly, they will be permanently damaged. ServiceMaster TEAM provides high quality content cleaning and pack-out services for residential and commercial clients in Levittown, PA. We'll clean and restore a wide variety of personal content on-site, unless the disaster has rendered the building unstable. In that case, we'll carefully inventory, pack and transport your items to our secure facility for cleaning and restoration.
Once a building has been compromised by a disaster, it's almost impossible to protect the contents from damage. Water, mold, soot, and smoke can wreak havoc on your personal possessions, and the damage can become permanent within days. Before you throw anything out, call the experts at ServiceMaster TEAM. We have the experience, cleaning products and equipment to clean and restore your content, even items you thought were lost forever. We work with your insurance company so your claim is processed as quickly as possible.
Pack-Out Services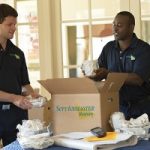 We do our work on-site as much as possible, but if the building isn't secure, we provide pack-out services. We carefully inventory and pack-out your items, then transport them to our secure, climate controlled facility for restoration. We make sure you and your insurance company receive a copy of the inventory. Once the building has been restored, we will deliver your cleaned and restored items to you.
If you experience a disaster at your home or business in Levittown, PA, call ServiceMaster TEAM 24 hours a day, 7 days a week at (267) 961-7065. We'll arrive as soon as the dust settles, literally, to begin the restoration work before the damage to your property becomes permanent.
---
Related Content Cleaning and Pack-Out Services
Content Cleaning and Pack-Out Services in Willow Grove and Southampton, PA
Content Cleaning and Pack-Out Services in Buckingham and Doylestown, PA
Content Cleaning and Pack-Out Services in Newtown and Yardley, PA