RestorationMaster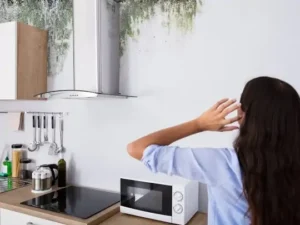 Mold is great if you're trying to make certain kinds of cheese, but it's not great in your home. It's impossible to completely avoid mold since the microscopic spores are everywhere in the air. Those spores just need the right conditions to begin growing. Mold not only damages building materials and property, it's also a health hazard.
Mold Removal & Remediation in Levittown, PA
RestorationMaster provides comprehensive mold remediation services to residential and commercial clients in Levittown, PA. We are a Quality Restoration Vendor, which means that every one of our technicians is highly trained in mold remediation and uses only the best equipment and products available in the industry to eradicate mold, no matter how big or small the infestation.
Mold spores need food to grow and building materials like drywall and wood are perfect sources. They can't grow without moisture, so all they need is an increase in humidity or standing water and they start growing quickly. If the mold starts growing in a hidden area, like inside a wall, the growth can be extensive before it's discovered. Mold eats away at its food sources, damaging them beyond the point of repair if left alone long enough. If that's not bad enough, those spores irritate eyes and lungs and cause serious problems for people with immune or respiratory issues.
If you see any mold, including black mold, contact RestorationMaster for mold removal and mold remediation services in Levittown, PA at (267) 961-7065.
Mold cleanup isn't a DIY project. Without the proper training and protective equipment, it's too easy to spread it throughout the building and get it on yourself. The experts at RestorationMaster have the equipment and cleaning products to completely remove all traces of mold from residential and commercial properties in Levittown, PA.
We are a Quality Restoration Vendor, meaning that every one of our technicians has received the highest levels of training to provide comprehensive mold remediation, no matter the size of the job. We use only the most effective equipment and cleaning products available in the industry as well as advanced testing equipment to find hidden mold, so all traces are gone. We restore the damage and find and repair the original source of the excess moisture.
Call us for Mold Removal and Mold Remediation in Levittown, PA
Mold isn't going to go away by ignoring it, so call the experts at RestorationMaster at the first sign of it in your home or business in Levittown, PA.
Time will only allow it to grow, cause more damage, and make people feel ill.
If you find any signs of mold, call RestorationMaster 24 hours a day, 7 days a week at (267) 961-7065.
---
Related Mold Remediation Services
Mold Remediation in Willow Grove and Southampton, PA
Mold Remediation in Buckingham and Doylestown, PA
Mold Remediation and Mold Removal in Montgomery, Bucks County, and Northeast Philadelphia, PA
Mold Remediation in Warminster, PA
Mold Removal in New Hope and Solebury, PA