ServiceMaster TEAM
Basement flooding is quite common because there are so many ways that excess water can end up in your basement.  Weather conditions like rain and natural floods can easily flood your basement because the water can seep in through openings in the foundation.  Basements are also vulnerable to flooding from non-natural sources such as burst pipes,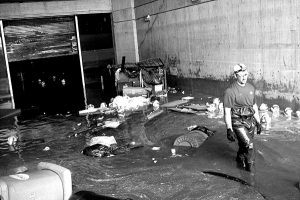 sewage backups, or sump pump overflows.  Regardless of what causes the flooding, you must take action immediately because standing water in your basement can cause significant property damage and greatly increase the risk of mold growth.  ServiceMaster TEAM provides flooded basement cleanup services to help recover flooded basements for homes in Levittown, PA.  We can effectively remove standing water and moisture from the affected materials and ensure that the area is completely restored.
No homeowner wants to find their basement flooded because the resulting damage can affect the structural integrity of the home as well as any objects that are kept in the basement.  The water will get absorbed into items like boxes and furniture and if you have a finished basement, the flood water can damage carpeting and drywall.  The absorption of flood water can also weaken building materials like wood which greatly increases the risk of structural damage.  Mold growth is already more likely to occur in the basement and if the flood water is not removed quickly, you could be dealing with a major mold problem as well.
At ServiceMaster TEAM, we have advanced water extraction and drying equipment that can remove standing flood water as well as moisture that has been absorbed by furnishings and building materials.  After we remove the water, we will make sure your basement is cleaned and restored to help prevent mold growth.
Our flooded basement services include the following steps:
Emergency Response: We respond immediately to flooded basement emergencies to limit the damage and begin the restoration.
Water Removal and Drying: We will remove flood water with our water extraction equipment and set up dehumidifiers throughout your basement to extract moisture from wet furnishings and building materials.
Reinstallation and Cleaning: We make sure to clean and disinfect your basement and we will move large objects like furniture to ensure that the area is thoroughly cleaned.
Dealing with Burst Pipes
Burst pipes are one possible source of basement flooding that can happen at any time, but it is more common in the winter.  The cold weather can cause water within exposed pipes to freeze and as the ice expands, it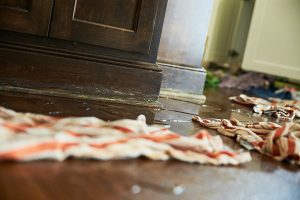 eventually causes the pipe to burst with the pressure.  It is possible for hundreds of gallons of water to spill out of a burst pipe and into your home.  If you experience a pipe burst, our technicians can stop the spill and restore the resulting damage.  We recommend insulating exposed pipes in the winter to help prevent them from freezing.
Flood water can cause serious damage in your basement that will only get worse until the water is removed.  Make sure you call ServiceMaster TEAM to have our technicians restore your flooded basement in Levittown, PA.  We are available 24 hours a day at (215) 399-4866 to provide emergency services.
---
Related Flooded Basement Cleanup Services
Flooded Basement Cleanup in Willow Grove and Southampton, PA