RestorationMaster
Few disasters are as upsetting as encountering a trauma scene. It's important to remember to call 911 immediately and to avoid touching anything. Trauma scenes contain biohazards like blood and tissue that can easily spread infections and diseases. They are often crime scenes, and disturbing even the smallest thing can jeopardize the investigation. RestorationMaster provides compassionate, discreet biohazard cleaning services for residential and commercial clients in Levittown, PA. We have the training and equipment to handle biohazardous materials without endangering ourselves or others, and we'll disinfect the entire area so it's safe to occupy again.
Crime Scene Cleanup in Levittown, PA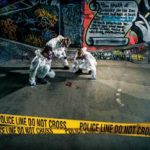 Any time a major accident or trauma occurs, it leaves behind blood, tissue, and other biohazardous materials. Commercially available cleansers aren't strong enough to remove biohazards from interiors or sanitize them. These materials can't be thrown away in ordinary household trash. Trying to clean these areas without the proper protective equipment is dangerous, and is a job that most people aren't prepared to handle, especially if a loved one was involved. The professionals at RestorationMaster have the training to remove biohazardous materials safely and legally, freeing you up to handle tasks that only you can manage. We follow OSHA regulations at all times and remove biohazardous materials in approved containers for legal disposal at an approved facility. We make sure the area is clean, sanitized and safe for human habitation again. We work in full cooperation with law enforcement to avoid compromising any investigation. We treat our clients with compassion and consideration because this isn't the average disaster cleanup project.
If you encounter a trauma scene in Levittown, PA, immediately leave the scene without touching anything and call 911. Moving even the smallest item can affect a criminal investigation, and it's impossible to know what has been contaminated with biohazard materials just by looking at it.
Once you receive the go-ahead from the authorities, call RestorationMaster 24 hours a day, 7 days a week at (267) 961-7065.
We'll arrive quickly and discreetly to provide comprehensive biohazard and trauma scene cleaning to both residential and commercial clients.
---
Related Biohazard and Trauma Scene Cleaning Services
Biohazard and Trauma Scene Cleaning in Willowgrove and Southampton, PA
Biohazard and Trauma Scene Cleaning in Buckingham and Doylestown, PA
Biohazard and Trauma Scene Cleaning in Montgomery, Bucks County, and Northeast Philadelphia, PA
Biohazard and Trauma Scene Cleaning in Warminster, PA
Biohazard and Trauma Scene Cleaning in New Hope and Solebury, PA