RestorationMaster
When there has been a death or injury that causes a situation where blood and bodily fluids must be cleaned up, it is very important that you know to contact the right people. Initially, if there was a death, attack, or other dangerous situation, it is important that you call the authorities. When the situation has been taken care of, your next call should be RestorationMaster to clean up the mess immediately. When there is blood and bodily fluids in a scene, it can be dangerous to clean if you do not have proper training. We are equipped to clean biohazard materials and can make certain the scene is free of any health risks. We service the Willow Grove and Southampton, PA area and are available 24 hours a day.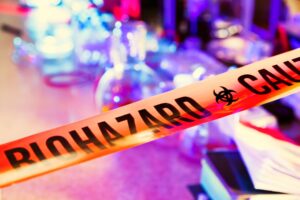 At RestorationMaster, we understand just how difficult it can be to witness an accident or crime. Any situation where you witness a significant amount of bodily fluids is never a positive experience. Biohazard materials can spread diseases and viruses around. To eliminate this problem, it is very important you call RestorationMaster. We can disinfect the area and make certain that there is no lingering threat of infection from the biohazard materials. The technicians of RestorationMaster have years of experience and training and are certified to help you with your disaster.
We are licensed in multiple cleaning fields and have the proper equipment to assist you.
Initially, when you witness a scary or dangerous situation, you should dial 911.
You need to have the proper authorities available at your disposal. Next, it is time to think about if there is any damage to your home from bodily fluids and if there is, you must call RestorationMaster. We can work with any law enforcement officials to properly clean the scene and be certain not to interfere. We will be as compassionate as possible as we understand how difficult this may be for those involved. We are committed to providing you with a clean and safe home as well as being a part of your healing process. We work diligently to remove all evidence of the situation.
Our trauma scene cleaning services include:
Complete removal of biohazard materials
Cleaning and disinfection of the affected area
Safe transport of biohazard materials to a licensed facility for proper disposal
Compliance with local, state, and federal health regulations
When there is a serious situation that involves biohazard materials, call RestorationMaster immediately to keep you and your family safe. We are happy to take the responsibility off your hands. We service those in the Willow Grove and Southampton, PA areas.
We are available 24 hours a day at (267) 961-7065 for emergency biohazard and trauma situations.
---
Related Biohazard and Trauma Scene Cleaning Services
Biohazard and Trauma Scene Cleaning in Buckingham and Doylestown, PA
Biohazard and Trauma Scene Cleaning in Levittown, PA
Biohazard and Trauma Scene Cleaning in Montgomery, Bucks County and Northeast Philadelphia, PA
Biohazard and Trauma Scene Cleaning in Warminster, PA
Biohazard and Trauma Scene Cleaning in New Hope and Solebury, PA