RestorationMaster
Fires are among the most devastating disasters that a person can go through. They are devastating to a family and can turn their lives upside down. Fires can occur naturally in the environment, however, they can also occur from everyday mistakes such as forgetting to put a cigarette out, leaving a stove on, or dropping a candle. Fires spread quickly and are especially dangerous. It is important as soon as you take notice of the fire that you and your family get out of the house and call for help.
As soon as the fire is extinguished, be certain to call RestorationMaster for our fire damage and smoke damage restoration services in Willow Grove and Southampton, PA. We are able to repair homes and offices that have gone through serious fire damage.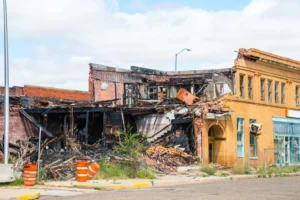 If your home has been affected by a serious fire, then it is important to understand that even though the fire has been extinguished, that does not mean that the damage to your home is done. Soot and other corrosive byproducts can destroy your home even after the fire is long gone. Our technicians at RestorationMaster will remove all soot and other corrosive byproducts from your home. We have the most effective and efficient cleaning products up to date and are much more thorough than our competitors.
The fire damage restoration services we provide include the following:
Fire damage cleaning and restoration
Complete structural cleaning
Personal property cleaning
Soot removal and cleaning
Smoke removal and sealing
Ozone treatment
Deodorization
Personal content pack-out and inventory
Air duct cleaning
Complete board-up and tarping services
Deodorization and Smoke Removal in Willow Grove and Southampton, PA
There are times following a fire when the damage is not all physical, it is common that the odor after a fire can be just as painful to deal with as physical damage. Even after your home has been repaired, the odor is a constant reminder of the trauma you and your family went through. The smoke can linger in the air ducts, structural elements, and furniture. Here at RestorationMaster, our technicians can make certain that there is no trace of smoke odor left in your home.
As soon as the fire has been extinguished, call RestorationMaster immediately. We will come to your home, remove all soot and corrosive byproducts, and repair all fire and smoke damage.
Our technicians at RestorationMaster can be reached at (267) 961-7065 24 hours a day/365 days a year.
We offer our services to the Willow Grove and Southampton, PA area and are happy to help at any time.
---
Related Fire and Smoke Damage Restoration Services
Fire and Smoke Damage Restoration in Buckingham and Doylestown, PA
Fire and Smoke Damage Restoration in Levittown, PA
Fire and Smoke Damage Restoration in Newtown and Yardley,  PA
Fire Damage Restoration in Warminster, PA 
Fire Damage Restoration in New Hope and Solebury, PA