ServiceMaster TEAM
Fires can do a great deal of damage in a short amount of time, but the flames aren't the only source of danger to property. Smoke carries a long way and gets deep into fabrics and upholstery. Soot and toxic fumes from burning synthetics and chemicals used in fighting the fire etch and tarnish household surfaces. This damage becomes permanent within days unless cleaning and restoration is started quickly. ServiceMaster TEAM provides high quality fire and smoke damage restoration to residential and commercial clients in Levittown, PA. We can remove the lingering smoke smell and clean the tarnish from chrome, aluminum and other surfaces.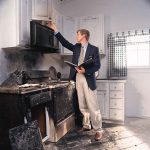 It's important to remember that the damage doesn't stop once the flames are out. Smoke and toxic fumes will linger for hours or longer, damaging building materials and property the entire time. The highly trained experts at ServiceMaster TEAM use only the best products and equipment available to the industry to effectively remove tarnish and smoke from interiors without causing more damage. We can restore items you might think were beyond saving.
ServiceMaster TEAM's fire damage restoration services include:
Fire damage cleaning
Complete structural cleaning
Personal property cleaning
Soot removal and restoration
Smoke removal and sealing
Ozone treatment
Deodorization
Content pack-out and inventory, if necessary
Air duct cleaning
Board-up and tarping services
Deodorization
There's nothing that can compare to the smell of smoke from a fire. Even after the flames are out, that stench lingers and no amount of air freshener will make it go away. Once it gets into air ducts, textiles and building materials, it's not going away without professional treatment. The professionals at ServiceMaster TEAM can get that hideous odor out and keep it from coming back.
If you experience a fire at your home or business in Levittown, PA, call 911 and evacuate immediately. Once you get the all-clear from the fire department, call ServiceMaster TEAM 24 hours a day, 7 days a week at (215) 399-4866. We'll be on site quickly to stop the damage and begin the restoration process so you can get things back to normal as soon as possible.
---
Related Fire and Smoke Damage Restoration Services
Fire and Smoke Damage Restoration in Willow Grove and Southampton, PA
Fire and Smoke Damage Restoration in Buckingham and Doylestown, PA
Fire and Smoke Damage Restoration in Montgomery, Bucks County, and Northeast Philadelphia, PA
Fire Damage Restoration in Warminster, PA
Fire Damage Restoration in New Hope and Solebury, PA