ServiceMaster TEAM
A fire is one of the most dangerous disasters that can occur in a home or building because of the threat it poses to your safety as well as the pervasive damage it can cause.  The flames cause charring to the affected structural elements and furnishings but most of the damage caused in a fire is actually the result of smoke, soot, and corrosive byproducts that can continue to cause damage after the fire is out.  These materials settle on surfaces and objects throughout the home or building and they cause tarnishing and etching that will become permanent if it is not cleaned up quickly enough.  ServiceMaster TEAM provides fire and smoke damage restoration services to clean up and repair homes and businesses in Buckingham and Doylestown, PA that have been affected by a fire.  We can clean and restore objects and surfaces affected by soot and corrosive byproducts as well as remove odors left by the smoke.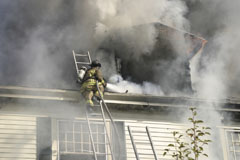 The damage from a fire can continue to get worse after it has been extinguished which makes it crucial to begin the fire damage restoration as soon as possible.  The burning of synthetic materials creates an oily smoke residue and corrosive byproducts that cause discoloration, tarnishing, and etching to carpeting, walls, appliances, furniture, clothing, and other household items and surfaces.  Our technicians are equipped to clean up tarnishing and etching from affected materials to prevent permanent damage, and we can also repair damaged structural elements.  We can restore even the worst cases of fire damage using the most advanced cleaning products and equipment of the industry.
The complete fire damage restoration we provide includes the following services:
Fire damage cleaning
Smoke removal and sealing
Soot removal and cleaning
Personal property cleaning
Complete structural cleaning
Odor removal
Ozone treatment
Air duct cleaning
Complete board-up and tarping services
Personal content pack-out and inventory
ServiceMaster Smoke Damage Restoration
Aside from the physical damage, fire and smoke can result in an unpleasant odor left lingering in the home or building that is difficult to remove.  The odor from the smoke can get trapped in absorbent building materials and furnishings because smoke can easily penetrate these materials.  With our odor removal services, we can remove lingering odors left by the smoke or fire from the affected air spaces and materials and we can also prevent the odor from returning.
Contact us for Fire & Smoke Damage Restoration in Doylestown & Buckingham, PA
If your home or building in the Buckingham and Doylestown, PA area has been damaged in a fire, make sure you contact ServiceMaster TEAM as soon as the fire is out for fire damage restoration services.  Our technicians will work quickly to remove tarnishing and etching before it causes permanent damage and get your home or building repaired to minimize the interruption to your life.  You can reach us 24 hours a day by calling (215) 399-4866 to respond to your fire damage emergencies.
---
Related Fire and Smoke Damage Restoration Services
Fire and Smoke Damage Restoration in Willow Grove and Southampton, PA
Fire and Smoke Damage Restoration in Levittown, PA
Fire and Smoke Damage Restoration in Montgomery, Bucks County and Northeast Philadelphia, PA
Fire Damage Restoration in Warminster, PA
Fire Damage Restoration in New Hope and Solebury, PA