ServiceMaster TEAM
(215) 399-4866
Mold growth can pose a serious problem when it appears in homes or buildings as it can lead to significant property damage, and exposure to the mold spores can cause health issues such as allergies and respiratory problems.  One of the biggest problems with mold is that it can appear at any time because the mold spores are a constant presence in the air and when they find an environment that provides a moisture source and food source, they will quickly form into mold.  ServiceMaster TEAM provides mold remediation services in Buckingham and Doylestown, PA to remove mold growth and restore the affected surfaces.  Our technicians are well trained and equipped to remove mold and as a Quality Restoration Vendor, we can effectively handle mold contaminations of any size.
What Causes Mold Growth?
The main cause of mold growth is moisture as the spores need a moisture source to form into mold and thrive.  Because of this, homes and buildings are more likely to experience mold growth due to water damage, leaks, or humidity and mold can also grow in hidden areas such as attics, basements, and wall cavities if there is a leak or high humidity.  The other element required for mold growth is an organic food source such as cellulose found in wood and drywall.  If given enough time, the mold growth will continue to devour the affected surfaces which can eventually cause permanent damage.
Mold Removal & Remediation in BuckingHam & Doylestown, PA –
Watch Our ServiceMaster Video:
For mold removal and remediation services in Doylestown and Buckingham, PA, contact ServiceMaster TEAM at (215) 399-4866.
ServiceMaster Mold Removal & Remediation
It is difficult and hazardous to attempt to remove mold growth without the proper training and equipment which is why you should call the mold remediation professionals of ServiceMaster TEAM.  As a Quality Restoration Vendor, we make sure our mold remediation technicians are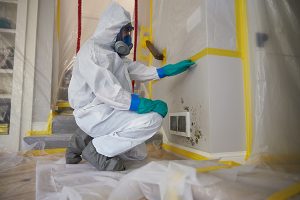 highly trained and use the best cleaning products and equipment of the industry to provide complete mold removal in any setting.  We will test your home or building to find and remove all hidden mold and we will also fix the source of the moisture and repair or replace the damaged surfaces.
Contact Us for Mold Removal and Remediation in Doylestown & Buckingham, PA
Mold is a very serious issue that must be resolved as soon as possible before it spreads to cause extensive damage or trigger health problems such as allergic reactions or respiratory infections.  If your home or business in the Buckingham and Doylestown, PA area has been affected by mold growth, make sure you call ServiceMaster TEAM immediately for mold remediation services.  You can call us 24 hours a day at (215) 399-4866 to respond to your mold emergencies.
---
Related Mold Remediation Services
Mold Remediation in Willow Grove and Southampton, PA
Mold Remediation in Levittown, PA
Mold Remediation and Mold Removal in Montgomery, Bucks County and Northeast Philadelphia, PA
Mold Remediation in Warminster, PA
Mold Removal in New Hope and Solebury, PA