RestorationMaster
When heavy rain or natural floods occur, the basement is the most vulnerable area of the home.  Your basement may become flooded if rain or flood water leaks through cracks in the foundation, or if there is a burst pipe, sump pump malfunction, or sewage backup that results in excess water.  Significant basement flooding can lead to serious damage and mold growth, which is why it requires immediate attention.  RestorationMaster provides flooded basement cleanup services in Willow Grove and Southampton, PA to remove flood water and excess moisture from basements.  Our advanced water extraction and drying equipment can effectively remove standing water and we will also clean and restore the damaged areas.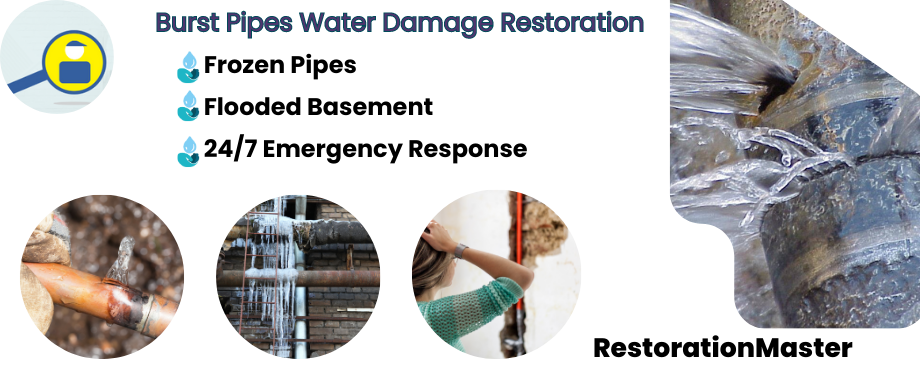 A flooded basement is an unpleasant surprise as it can ruin objects stored in your basement, cause structural damage, and trigger mold growth.  Finished basements are especially vulnerable to damage because the water will get absorbed into the carpeting and furniture and cause damage to electronics and other items.  Structural elements like drywall and wooden beams may also absorb water which will weaken these materials and increase the risk of serious structural damage.  Mold growth is another major concern, especially considering that basements are already a common spot for mold without flooding.
The technicians of RestorationMaster use state-of-the-art drying equipment to remove flood water from your basement and clean up the damage.  Our water extraction equipment can remove any amount of standing water and we use advanced dryers and dehumidifiers that can extract moisture from furnishings, drywall, carpeting, and other affected materials.
The flooded basement cleanup services we provide include these steps:
Emergency Response: Our technicians arrive quickly to assess the damage and start the cleanup process.
Water Removal and Drying: Our water extraction equipment can take care of standing water and our dehumidifiers thoroughly dry affected materials to prevent further damage and mold growth.
Reinstallation and Cleaning: We will thoroughly clean and restore the affected areas and return any large objects that have been moved back to their original places.
Burst Pipes in the Basement
One potential source of basement flooding is a pipe burst.  It is common for basements to contain exposed pipes and during the winter, the water within these pipes may become frozen from the cold weather.  As the water in the pipe freezes and expands, it eventually puts enough pressure on the pipe to cause a burst.  Burst pipes have been known to spill hundreds of gallons of water into a home in a short period of time.  Our technicians at RestorationMaster will respond immediately to broken pipe emergencies to stop the leak and remove the water.  You can prevent frozen pipes by providing extra insulation for your exposed pipes and regularly checking for signs of a burst.
Call us for Flood Cleanup in Willow Grove, Southampton, and the Surrounding Areas
Flooding in your basement can have dangerous consequences for your home which is why you must call a professional immediately.  RestorationMaster is ready to help the residents of Willow Grove and Southampton, PA that have experienced significant basement flooding.
You can call us 24 hours a day at (267) 961-7065 for emergency flooded basement restoration.
---
Related Flooded Basement Cleanup Services
---
Water Damage Tips