RestorationMaster
It is nearly impossible for homes and buildings to completely avoid water damage as it can come from so many sources.  Water damage is commonly caused by flooding and leaks from heavy rain, but it can also come as a result of plumbing leaks, appliance malfunctions, overflows, and sewage backups.  It is very important to react to water damage quickly because it spreads through porous building materials, spreading the damage and increasing the risk of structural damage and mold growth.
At RestorationMaster, we provide complete water damage restoration services in Warminster, PA to deal with anything from a leak to major flooding.  Our technicians use advanced equipment to extract water and excess moisture and restore the damage it has caused.  We will also take steps to help prevent mold growth which is common after sustaining water damage.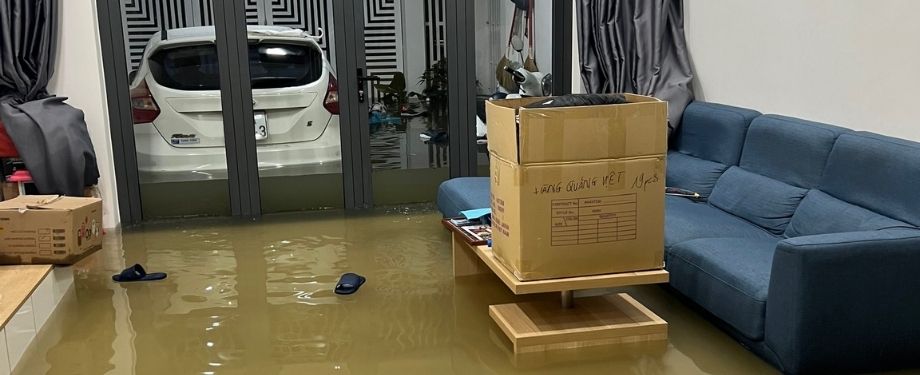 Damage from Excess Water
Excess water and moisture have the ability to cause serious property damage because many common building materials and furnishings are porous.  This means that wood, drywall, carpeting, flooring, and furnishings can absorb water which results in warping, rotting, and eventually structural damage.  These materials are also at high risk for mold growth as they absorb more water.
Water Damage Restoration in Warminster, PA
When you call RestorationMaster for water damage restoration, our technicians arrive quickly to stop the spread of the water and contain the damage.  We will then assess the extent of the damage, including how far the water has spread, to put together a restoration plan.  We use advanced water extraction equipment to remove all water from the property and we will thoroughly dry the affected areas and materials by setting up strategically placed dehumidifiers and air movers.  This equipment is effective for extracting excess moisture from wet materials.  After the water and moisture are removed, we will restore or replace the damaged materials.
You can expect the following from our water damage restoration services:
Water damage repair
Flood restoration
Sewage cleanup and remediation
Structural drying
Antimicrobial treatment
Carpet and area rug cleaning
Upholstery Cleaning
Content cleaning and drying
Stain removal
Sewage Backup Cleanup
When water contaminated with sewage affects your home or building, the situation is more dangerous.  Sewage water contains viruses, bacteria, and other toxins that can seriously threaten your health.  Homes and buildings are commonly affected by sewage when there is a sewage backup or when flood water already contaminated with sewage enter the property.  If you suspect sewage in your home, you need to avoid all contact with the water.  Our technicians are properly equipped to remove sewage water safely and restore or remove damaged materials.  We will also disinfect the affected areas to help prevent health issues.
Call us for Water Damage Restoration in Warminster, PA
Do not hesitate to contact RestorationMaster if you notice water damage in your home or building in Warminster, PA.  We will arrive quickly with the proper equipment to get the water and moisture out of your property and begin the cleaning and restoration.
We are available 24 hours a day at (267) 961-7065 to respond to water damage emergencies in Warminster, PA.
---
Related Water Damage Restoration Services
Water Damage/Sewage Damage Cleanup in Levittown, PA
Water Damage/Sewage Damage Cleanup in Willow Grove and Southampton, PA
Water Damage/Sewage Damage Cleanup in Buckingham and Doylestown, PA
Water Damage Restoration in Newtown and Yardley, PA 
Water Damage Restoration in New Hope and Solebury, PA