RestorationMaster
It is never easy to encounter a scene involving a serious injury or death but it is very important to know how to react to these scenarios to alert the right authorities and keep yourself safe. These scenes commonly contain biohazard materials such as blood and bodily fluids that must be cleaned up by a certified professional because any contact with these materials could lead to infection or disease.
RestorationMaster provides biohazard and trauma scene cleaning services to remove dangerous biohazard materials from the scene of a serious accident or death in the Newtown and Yardley, PA areas. We are equipped and certified to safely handle biohazard materials and disinfect the scene to eliminate any health risks.
When a violent crime or major accident occurs, there are normally biohazard materials found at the scene such as blood, tissues, and other bodily fluids. These materials can be extremely dangerous because they consist of bacteria, viruses, and other harmful toxins or disease-causing agents, and cleaning them improperly only increases the chance of spreading infection or disease. The technicians of RestorationMaster are highly trained and licensed to remove all types of biohazard materials as well as clean and disinfect the scene using powerful and effective cleaners and deodorizers. We make sure to follow the regulations of OSHA and we use personal protective equipment (PPE) to keep our technicians protected.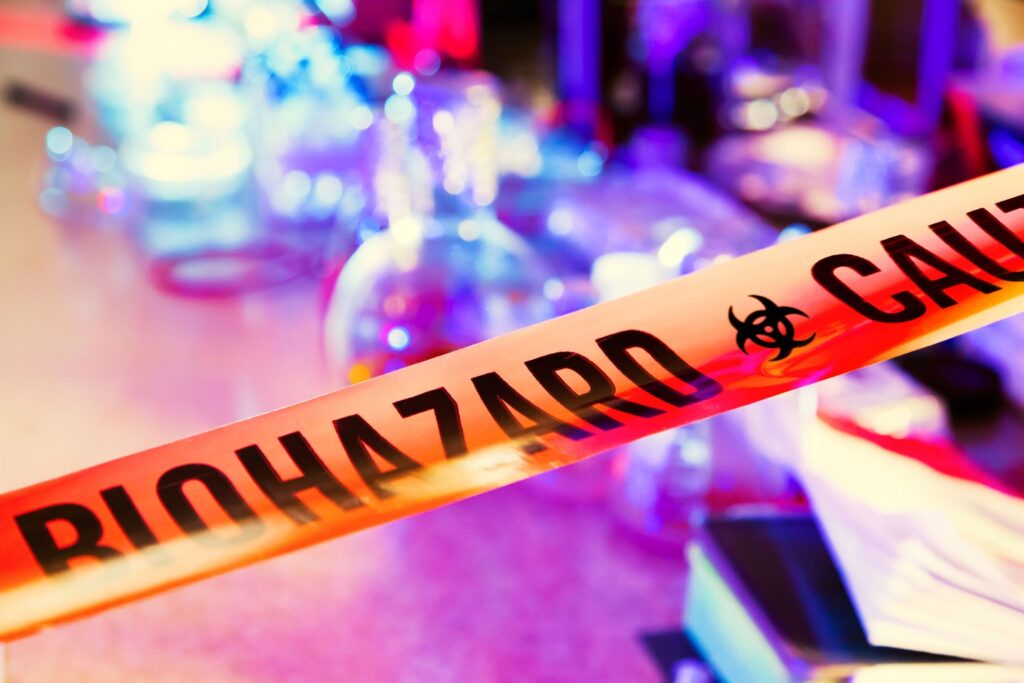 The first thing you should do if you encounter the scene of a crime or accident is called the proper authorities including law enforcement and EMTs, and then contact our professionals for trauma scene cleaning. We understand that these situations are very sensitive and difficult emotionally and we make sure to protect your privacy by arriving in unmarked vehicles and working discreetly. We can also work with law enforcement to clean up crime scenes and avoid jeopardizing the investigation. Our technicians are committed to working with discretion, integrity, and character to help ease the emotional trauma for our clients and begin the healing process. Our biohazard cleaning services include the following to remove all physical evidence of the tragedy:
Complete removal of biohazard materials
Cleaning and disinfection of the affected area
Safe transport of biohazard materials to a licensed facility for proper disposal
Compliance with local, state, and federal health regulations
Scenarios that involve a death or major injury are difficult to deal with but it is important to react with caution and call the proper authorities. The responsibility of cleaning up the scene falls on the owner of the property and RestorationMaster provides biohazard and trauma scene cleaning services in Newtown and Yardley, PA to fully clean and disinfect the scene of a death or injury.
You can reach us 24 hours a day at (267) 961-7065 for emergency situations in Newtown and Yardley, PA.
---
Related Biohazard and Trauma Scene Cleaning Services
Biohazard and Trauma Scene Cleaning in Levittown, PA
Biohazard and Trauma Scene Cleaning in Willow Grove and Southampton, PA
Biohazard and Trauma Scene Cleaning in Buckingham and Doylestown, PA