ServiceMaster DAK
Serving Buffalo Grove, Lake County, part of Cook County, IL and the surrounding areas, available 24/7/365
The upholstery fabric is constantly coming into contact with your friends and family. Dirty hands cause dirt to build up in the fabric and appear filthy. This can dull the fabric and affect the look of your home or office. In addition to being aesthetically unappealing, the rubble in your fabric can cause the couch to deteriorate. With our hot water extraction method, we can restore all different types of fabric and furniture! The cleaning method is applicable to different types of upholstery and is able to dry quickly and efficiently. The hot water extraction method will not damage your furniture in any way.
Commercial and Residential Upholstery Cleaning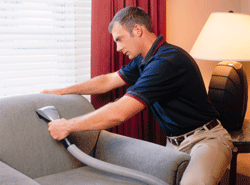 If your carpet or upholstery looks worn out, filthy, or is in need or restoration, call ServiceMaster DAK for professional upholstery cleaning services. We are capable of cleaning all different kinds of upholstery fabric. We will have your furniture looking brand new in no time! To schedule your free consultation today, call us at (847) 558-6604.
To effectively clean your upholstery fabric, we use top-of-the-line cleaning products and equipment. We can give you an estimate within hours of your call free-of-charge. We will remove all stains and use the proper cleaning method to make your furniture appear as good as new!
Tips to Prepare for Upholstery Cleaning:
Keep out of direct sunlight: The furniture upholstery will fade if kept in direct sunlight.
Plump the cushions: Plump the cushions to prevent the cushions from flattening.
Rotate the cushions: Rotate cushions to prevent wear and tear.
Vacuum: By vacuuming you prevent debris buildup.
Blot up spills: Spills should be dried right away to prevent stains.
If you notice that your furniture looks faded, dirty, or worn out, call ServiceMaster DAK immediately. We have the services, tools, and equipment necessary to make your furniture and other upholstery fabric items appear brand new again! We serve all types of upholstery in all types of houses or offices in the Buffalo Grove, IL area. You can call us at (847) 558-6604.
---
Carpet and Upholstery Cleaning Services in Buffalo Grove, Lake county and other IL locations:
Arlington Heights IL 60004 | Barrington IL | Buffalo Grove IL | Lake Zurich IL
---
Recent Reviews
January 7, 2020
Very thorough clean up! The men were very professional and competent! They arrived on time for 5 days and were very pleasant and respectful of my home always wearing "booties" when entering. The room was left immaculate and debris removed in plastic bags day 1. The fans were checked daily until the room was dry. Very good service! Recommending Brian Brown and Gabriel who did a great job!
---