Indoor flooding is one of the most damaging disasters that can happen to a home or business because the water can spread so quickly and threaten the structural integrity of the building. It can happen at any time due to rain, natural floods, leaks, overflows and burst pipes and if the water is not removed quickly, it will continue to spread through absorbent building materials and increase the risk of mold growth. ServiceMaster DAK provides flood damage cleanup and restoration services in Palatine, IL to remove indoor flood water and restore the damaged areas. Our state-of-the-art equipment can extract all flood water from your home or business and we can also dry wet furnishings and building materials.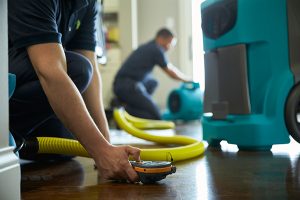 Most building materials that are used for homes and buildings including drywall, insulation, wood, and different flooring types are porous. Flood water quickly penetrates these porous building materials where it can cause a range of damage from warping and discoloration to the loss of structural integrity which can lead to devastating and expensive damage. In addition to the structural damage, these wet building materials are also vulnerable to mold growth which can affect your health and accelerate the damage.
ServiceMaster DAK is ready to provide complete flood damage restoration services with state-of-the-art water extraction and drying equipment. Our technicians will make sure the flood water is completely removed and then strategically place dehumidifiers throughout the wet areas to dry building materials, furnishings, and other objects that have been affected. We will also clean and disinfect the damaged areas to prevent mold growth and make the area safe for use.
Our flood damage restoration services include the following:
Emergency Response: We provide a fast response to limit the spread of the flooding and evaluate the damage to form a restoration plan.
Water Removal and Drying: The flood water will be removed completely from the home or building and we will dry wet furnishings and other materials with our dehumidification equipment.
Reinstallation and Cleaning: We will thoroughly clean and disinfect the flooded areas after drying and put back any furniture we moved during the job.
Flooding from Burst Pipes
One common source of indoor flooding that you should always watch out for is burst pipes, especially in the winter. Freezing winter temperatures can freeze the water inside the pipes and the ice will expand until it causes the pipe to burst and leak water in your home. While this is more common during the winter, burst pipes can happen any time of year if the pipes become worn out or damaged. If you experience a pipe burst, our technicians can fix your pipe to stop the leak and clean up the water that spilled out. Installing pipe insulation and keeping uninsulated areas of your home warm during the winter can help prevent your pipes from freezing.
If you are dealing with flooding in your home or building, make sure you act fast to prevent the flood water from penetrating the building materials and causing deep structural damage. ServiceMaster DAK is available 24 hours a day to respond to your flooding emergencies in Palatine, IL. You can call us at (847) 983-7400 for immediate assistance.
---
Recent Reviews
January 7, 2020
Very thorough clean up! The men were very professional and competent! They arrived on time for 5 days and were very pleasant and respectful of my home always wearing "booties" when entering. The room was left immaculate and debris removed in plastic bags day 1. The fans were checked daily until the room was dry. Very good service! Recommending Brian Brown and Gabriel who did a great job!
---