Do you have water damage? If so, Nu-Gen Cleaning & Restoration is here to help! Our team of specialists has years of experience providing water damage restoration services to homes and businesses in Elgin, IL, and the surrounding area. We know how quickly water can spread through absorbent building materials and cause even more issues to your home or business. That's why we use the best available equipment to thoroughly dry and restore affected areas.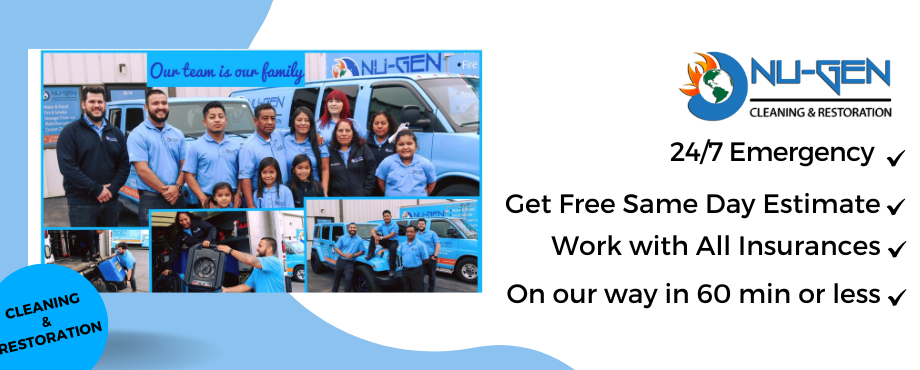 Water Extraction Services
When you need water damage restoration services, you can trust our team to get the job done right. We have over 20 years of experience in the industry, so we know how to handle any situation—and we'll make sure that you're happy with the outcome.
We start with a thorough assessment of the situation to determine what went wrong and how best to fix it. Our trained and certified technicians are experienced in handling even the most difficult cases according to IICRC S-500 guidelines. Because excess water spreads through absorbent building materials quickly increasing structural damage as well as the risk for mold growth.  We start by mitigating the damage before it spreads further. Once excess water is contained, we will remove it and thoroughly dry affected areas with advanced equipment.
Our technicians are trained in water mitigation, antimicrobial applications, corrosion control as well as dehumidification equipment use.
Our water damage restoration services consist of these phases:
Emergency Service and Job Site Inspections: We are available 24/7 for water damage emergencies and we will fully inspect the damage.
Water Extraction and Drying: We remove the excess water and dry the affected areas including carpeting, upholstery, structural elements, and air ducts with dehumidification equipment.
Reinstallation and Cleaning: Any items moved during the restoration are replaced and we will clean up the affected areas.
Structural Repairs: Our technicians can help repair any structural damage.
When your home is affected by water damage, you don't have time to wait. You need to get the problem addressed right away. We know how upsetting it can be when your home is affected by water damage, so we make it our priority to address your needs as quickly as possible.
We understand that every situation is different, which is why we offer a wide range of services from water removal to structural repairs. Our technicians are trained in all aspects of water damage restoration and have extensive experience working with a wide range of different materials and surfaces.
Dealing With Water Damage And Want To Know Where To Start? Water Our Video:
Getting Specific: Flooded Basements
When you're faced with water damage in your home, the first thing to do is stop the flow of water. If you have a burst pipe, shut off the main valve. If you have a sump pump that's backing up, make sure it's turned off or disconnected from its power source.
Once this is done, it's time to start cleaning up the mess. First, remove all furniture and other items from the room. Next, take all wet carpeting outside and lay it flat in the sun to dry—this will keep mold from forming on its surface. Finally, use a wet vac or shop vac to extract as much of the remaining water as possible from your carpeted area before replacing it with new padding and carpeting. If there is too much work for you to handle, its time to call in a professional.
Sewage Water Mitigation
When you're dealing with flooded carpet, it's important to remember that it's not just a mess. Flooded carpet can be dangerous and unhealthy.
Flood water is full of bacteria, viruses, and other germs that can cause disease and illness in humans. This means you should always be careful when removing flood water from carpet and that it's important to take the proper steps to prevent getting sick from the flood water.
When removing flood water from carpet, use caution as you're working through your home. If possible, have someone else help you remove the water so you can focus on safety first and foremost.
Before cleaning up after a flood, here are some tips to keep in mind:
 Wear gloves at all times when handling any items that may have been exposed to flood waters (e.g., furniture).
 Use bleach or disinfectant spray on all surfaces that came into contact with flood waters before moving them out of your home (e.g., furniture).
 Keep children away from areas where cleaning is taking place; they should not be allowed to interact with these areas until they have been cleaned properly by professionals who know how best to handle such situations safely for everyone involved.
When to call in a professional
When it comes to determining the best course of action for your unique situation, there are many factors that come into play including: The type of material that was damaged (wood versus carpeting), The extent of the damage (how much area needed drying), The amount of time it will take for dry out completely (depending on humidity levels).
The sooner you call us after experiencing water damage in your home, the better chance you have at preventing further damage and saving money on repairs down the road. We will always work hard on your behalf to make sure that you're getting
Contact Us for Trusted Water Removal in Elgin, IL
When your property has sustained water damage, it can be an extremely stressful situation. With NuGen Cleaning & Restoration, you can take comfort in knowing that we're here to help you 24/7, and that if there's anything we can do to make the process easier for you, just let us know. Our technicians are highly trained and experienced in dealing with different kinds of damage. We use sophisticated equipment to completely dry out all affected areas and we'll work directly with your insurance company to minimize any interruption to your life so you can get back to business fast.
Looks are deceiving when it comes to water damage, and undetected moisture will continue to cause costly repairs and odors. Greater damage will surface when materials shrink, split, and deteriorate to require costly repairs. No matter if disaster strikes in the middle of the night or the middle of the day, Nu-Gen Cleaning and Restoration can handle any water emergency project that occurs at your home or business.
Once water damage starts, it will continue to spread and increase the risk of mold growth until the excess water is removed.  Contact Nu-Gen Cleaning & Restoration if your home or business in Elgin, IL has been affected by water damage.  We will remove the excess water as well as completely clean and sanitize the area.  You can call us 24 hours a day at (815) 569-0702 for emergency water damage restoration.
---
Related Water Damage Services:
Water Damage Repair Cary, IL
Water Damage Restoration, Gilberts, IL
Water Damage Restoration, West Dundee, IL
Water Damage Mundelein, IL
Water Damage Repair, Crystal Lake, IL
---
Related Water Damage Tips
The Benefits of Having an IICRC-Certified Professional for Water Damage Restoration
Water and flood damage should never be underestimated, as it can cause significant damage that can worsen if not addressed promptly. Time and money are critical factors in such situations, making it imperative to engage the services of a competent restoration company that can handle the cleanup quickly and effectively. To minimize the impact on these resources, it is advisable to conduct research beforehand so you are prepared for unexpected emergencies.
Wool carpeting can be a beautiful addition to a room. These rugs have been made for centuries, and they are made to last. They have been sought after and used for years, which is why they are available all over the world in vintage and antique shops. Wool rugs do require some care. Even though they can last for years, it is important to use the right solution to clean them without causing major damage to them. However, no special equipment is needed to care for them.
How Long Does it Take for Walls to Dry After a Leak
Water damage can stem from a variety of sources, such as natural floods or pipe leaks. If you experience a leak, it is probable that your property's drywall will suffer water damage. To prevent extensive structural damage and the growth of mold, it is crucial to dry the affected drywall promptly.
---
Recent Reviews
Review by

Kelly Ann
Rating

It is only the first day and the so far the professionalism and the kindness of the workers the cleanup and care of my property and furniture is above and beyond any company I have seen!! Absolutely outstanding and professional company hands down so far!!! Third day!! So far I have had Fransisco Jose Sha-ron Zeke Nick Joey as crew members and all absolutely amazingly outstanding truly and amazing company through and through their professionalism is by far hands down amazing! Great company great workers fast and thorough the owner Moises is on top of everything he actually came out he has had no issues answering questions when I needed I mean when they work for you.. they truly work for you with the utmost care and professionalism and the cleanliness it's unbelievable!
---
Review by

Stephen Abbs
Rating

I had a pipe freeze and burst at my home in the very early hours of Christmas Eve, around midnight. The water damaged my kitchen and went into my basement as well. I called Nu-Gen around 2:00am and Olga answered the phone and set up an appointment for me for the same day, between 8:30-9:30. After calling my insurance company, they said they would send out their own mitigation service so I cancelled my appointment with Nu-Gen. Well, the service that my insurance company contracted never showed up, but to my surprise Olga called me that afternoon to check on things and make sure I was okay. I was incredibly grateful for her checking on me because my insurance company failed me at that point. Later that afternoon Moises, the project manager, came out to assess the situation. They immediately set up the mitigation process and during the next couple of weeks, Moises - and his wonderful crew - Jose and Joey, were out several times to check on the progress of the drying and mitigation process. I am forever grateful for Nu-Gen's help and guidance throughout this entire process. I've recommended their services to my insurance company as well so that they could now have a reliable mitigation service to use in the area and I also expect to use Nu-Gen for the reconstruction work as well.
---
Review by

Dylan
Rating

Jose and Leti were wonderful, a third gentleman came to assist, I didn't get his name but they worked well together to solve a tricky dryer vent issue. After spending over an hour cleaning a vent that was no longer in use from second floor( unbeknownst to all of us) we learned previous owners rerouted out the roof. Not once did they act like they were annoyed by this discovery. Very professional and very friendly. I cannot recommend them enough. Great Job Nu-Gen.