Nu-Gen Cleaning & Restoration
Water damage can originate from seemingly countless sources–floods, heavy rain, humidity, leaks, overflows, and more. Regardless of how it originates, water damage is important to treat quickly to avoid more severe and permanent damage from taking root. Nu-Gen Cleaning & Restoration has a proven track record of providing water damage restoration for homes and businesses in Gilberts, IL to clean up the excess water and restore the damage. Our technicians have years of experience providing water damage repair services and we use the best equipment possible to thoroughly dry out and restore affected homes and buildings while saving you money.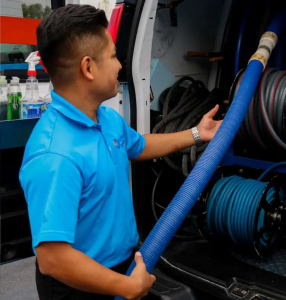 Our water damage restoration process begins with containing any existing water to prevent it from spreading and causing further damage. This is important because water can spread quickly through porous materials, increasing the chances of mold growth or structural damage to your property. After the water is contained, our IICRC certified technicians will use professional grade drying equipment to remove it from affected areas.
Our team at Nu-Gen Cleaning & Restoration is extensively trained in water mitigation including the use of dehumidification equipment, antimicrobial agents, and corrosion control to make sure your job is done properly every step of the way.
Water Damage Restoration – What to Do
Remain calm. It is hard to think clearly in taking the proper steps when you are overwhelmed by the damage.
Call Nu-Gen Cleaning & Restoration as soon as possible to prevent the spread of damage.
Turn off the main water line to prevent additional water damage.
Place a piece of tin foil between furniture legs to prevent the water from traveling upwards.
Prop up any wet sofa cushions and pillows to allow for efficient drying.
Remove any wet area rugs from the floor.
Turn off the electricity in all rooms with standing water for your safety.
Remove all curtains from standing water.
Pick up any materials that may bleed into the carpet, including: pottery, clothes, printed materials, etc.

Water Mitigation – What NOT to Do:
Do not enter any room with severe structural or electrical damage.
Do not place any newspaper on wet carpet to use for walking. The ink from the paper will bleed onto the carpet.
Do not use a vacuum to remove the water.
Do not use any electrical appliances until they have been cleared by your technician.
Do not touch/disturb visible mold.
Our professional water damage restoration service includes:
Emergency Service and Job Site Inspections: Our team is on call around the clock to provide a quick response to water damage emergencies and assess damaged sites.
Water Extraction and Drying: Nu-Gen Cleaning & Restoration uses advanced drying equipment to extract excess water from carpet, upholstery, air ducts, and more.
Reinstallation and Cleaning: We will remove damaged items from your property and replace them with new, fully functional pieces. We will also clean affected areas to make them safe and healthy to inhabit again.
Structural Repairs: If your property has sustained any structural damage as a result of water issues, we will work to repair and restore it.
When you need water damage repair in your home or business, call the specialists at Nu-Gen Cleaning & Restoration. Our team provides water damage restoration services for residential and commercial clients in Gilberts, IL, and the nearby areas. We specialize in mitigating the effects of flood and storm damage, broken pipes, and burst appliances. Your satisfaction is our number one priority!
---
Related Water Damage Services:
Water Damage  Restoration Elgin, IL
Water Damage Restoration, West Dundee, IL