Nu-Gen Cleaning & Restoration
Mold in homes and buildings can create both exterior and interior damage. As the fungus uses moisture, organic matter, and porous building materials as food sources, it can grow and cause allergic reactions and respiratory issues. In severe cases, mold-related ailments can lead to other severe and long-term health effects. Mold can grow in any area of the home or building where there is excess moisture. As it develops, spores latch onto porous building materials and consume the cellulose within them. If you ever notice mold growth forming in your home, it is critical to reach out to a professional immediately.
Nu-Gen Cleaning & Restoration specializes in mold remediation in Gilberts, IL. We are able to effectively identify, remove, and treat contaminated areas as well as return your home or building to a safe and healthy environment.
Problems with Mold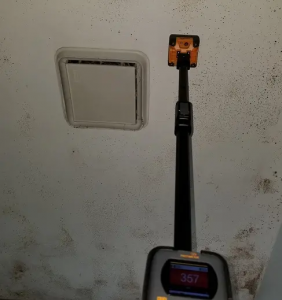 If water damage is not treated within 48 hours of a leak, mold can move in and start growing on drywall, wood, upholstery, and carpeting. Any material containing cellulose is suitable for mold growth. These materials will become discolored, deteriorated, and ultimately permanently damaged given enough time. In addition, mold spores are released into the air during this process, which can lead to secondary problems such as allergies and asthma and cause mold growth in new areas of the property.
Mold growth can be a severe health hazard; it is often accompanied by allergic reactions and asthma conditions. Typical symptoms of mold exposure include skin irritation, coughing, headaches, itchy eyes and throat, nasal congestion, and more.
When you contact Nu-Gen Cleaning & Restoration, we'll send a team of technicians to identify the affected areas and prevent mold from spreading. Our team will remove the mold at the source and restore your property to its original condition.
What to Do When You Encounter Mold:
Contact Nu-Gen Cleaning & Restoration for an inspection and free estimate
Wear personal protective equipment including eyewear, gloves, and glasses
Check for mold in your HVAC systems
Increase airflow by using ceiling fans and your AC unit
Use a dehumidifier to absorb excess moisture
Remove condensation from walls
What NOT to Do When Discovering Mold:
Do not attempt to DIY clean the mold–using the wrong techniques can result in more harm than good.
Do not touch mold colonies.
Do not cover mold with paint or caulk.
Do not use fans in close proximity to mold, as this can cause it to spread.
During our mold remediation service, we will:
Inspect and evaluate the mold growth
Report our findings from the inspection to your insurance company
Erect mold containment chambers in affected areas
Create a thorough mold removal plan
Execute our mold remediation process using advanced cleaning products and methods
Clean affected building materials and surfaces
Act quickly when you uncover mold in your home or business to protect the health of yourself and your property. Nu-Gen Cleaning & Restoration is available 24/7 for emergency mold removal services.
Get a Free Estimate
Call Nu-Gen Cleaning & Restoration at (815) 733-9123 for prompt and friendly mold removal in your Gilberts, IL home or business.
---
Related Mold Remediation Service:
Black Mold Remediation Elgin, IL
Mold Removal Services Gilberts, IL
Black Mold Removal West Dundee, IL