Nu-Gen Cleaning & Restoration
The presence of mold in homes and buildings is a hazard to both property structure and health. As spores from the mold are released into the air, they trigger allergic reactions and respiratory issues as well as more serious long-term health effects. Mold can develop in any area containing excess moisture. As it develops, it uses porous building materials as food sources. As the mold eats away at these materials, damage to your home or building can occur. It is imperative to contact a professional when you discover signs of mold growth.
We perform complete mold removal for homes and buildings throughout West Dundee, IL. Our mold remediation experts are licensed, trained, and equipped to identify, contain, and eradicate mold from all building surfaces.
Problems with Mold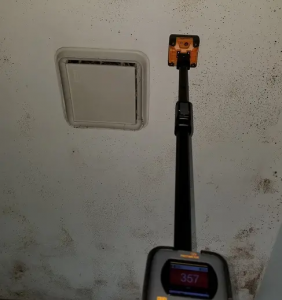 If moisture is not treated quickly, mold can grow within 48 hours of excess moisture and bacteria accumulation in a particular area. Mold typically grows on drywall, wood, upholstery, and carpeting; anything containing cellulose. Over time, affected materials deteriorate and become discolored, leading to permanent damage. Additionally, mold spore-based colonies spread throughout the indoor environment, posing a serious health risk to occupants.
Mold can have severe effects on human health. Allergic reactions and asthma have been linked to mold exposure—asthma symptoms can include difficulty breathing, a cough, wheezing, and more. Some mold species produce volatile organic compounds (VOCs) that can cause eye and throat irritation, headaches, dizziness and loss of coordination, nausea, and vomiting when inhaled.
Nu-Gen Cleaning & Restoration is the company to call when you're dealing with a mold infestation. We'll act quickly when you call and identify the affected areas. We'll prevent mold from spreading, and we'll remove it at the source. Your property will be fully restored to its original condition
Steps to Take When You Find Mold:
Call Nu-Gen Cleaning & Restoration to have your property inspected.
Protect yourself from mold exposure with eyewear, glasses, and gloves.
Check your HVAC systems for evidence of mold growth.
Use ceiling fans and your air conditioning to improve circulation in your property.
Absorb excess moisture with a dehumidifier.
Wipe down walls to get rid of condensation.
Steps to Avoid When You Discover Mold:
Do not try to clean up the mold yourself; this is risky and may cause the mold to spread further.
Do not touch or attempt to move mold colonies.
Do not cover up mold with caulk, paint, etc.
Do not turn on fans near areas of mold growth.
Our mold remediation process involves each of the following:
Inspection of property for mold growth
Reporting to your insurance provider
Installation of mold containment chambers
Development of a plan for mold removal
Execution of mold remediation plan
Building and surface cleaning
Time is of the essence when it comes to resolving mold problems. Reach out to Nu-Gen Cleaning & Restoration quickly after discovering mold to begin the remediation process and prevent it from spreading. We are on call 24/7 for emergency services.
Get a Free Estimate
Contact the team at Nu-Gen Cleaning & Restoration for your mold remediation needs by calling (815) 733-9123. We will provide you with a free estimate for our services and an effective remediation plan for the mold in your West Dundee, IL home or business.
---
Related Mold Remediation Service:
Black Mold Remediation Elgin, IL
Mold Removal Services Gilberts, IL