Nu-Gen Cleaning & Restoration
Servicing Cary / Crystal Lake / Algonquin area
As one of the most important furnishings in any home or office, carpeting requires regular maintenance. Vacuuming is not enough to fully clean embedded debris and stains from the fibers of your carpet. The secret to a carpet's longevity is maintaining its original appearance, but that requires professional services. At Nu-Gen Cleaning & Restoration, we can safely and thoroughly clean every type of carpeting with our truck-mounted cleaning equipment. Give our experienced team a call today to improve the appearance of your carpeting and extend its life.
Professional Carpet Cleaning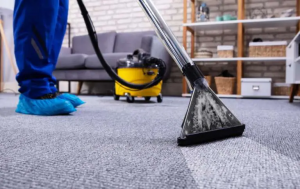 Carpet requires professional cleaning to remove dirt and debris that collect in its fibers over time. The buildup of dirt and debris can discolor or damage the carpet. Homeowners should hire a professional cleaner once a year to improve the look and maximize the longevity of their carpets. To achieve the same goal, businesses should expect to hire a professional more often due to the high traffic in commercial settings that can cause buildup and deterioration faster.
Nu-Gen Cleaning & Restoration has a highly trained and experienced staff that provides quality carpet cleaning services using the hot-water extraction method. This process takes dirt and debris out of the carpet using mild detergents and truck-mounted extraction equipment, leaving it cleaner, faster to dry, and with better longevity than other carpet cleaning methods. Built-up debris and dirt will be completely removed from your carpet without leaving residue or any chemicals behind.
Each of the following steps is included in our professional carpet cleaning service:
Inspection and assessment of the carpet
Pre-treatment for existing spots or stains
Pre-spraying of the carpet
Carpet cleaning using our truck-mounted hot water extraction method
Removal of odors in the carpet (as necessary)
Carpet protection with Scotchgard (optional)
Drying of the carpet with heat, ventilation, and dehumidification equipment
Nu-Gen Cleaning & Restoration is the premier carpet cleaning company offering professional carpet cleaning services for homes and businesses in West Dundee, IL. Our technicians arrive within 2 hours of your appointment time with our advanced cleaning products and equipment to bring your carpet back to life. Call Nu-Gen Cleaning & Restoration at (815) 733-912 to schedule an appointment today.
---
Related Carpet Cleaning Services West Dundee, IL
Carpet Cleaning Elgin, IL
Carpet & Upholstery Cleaning Cary, IL