Nu-Gen Cleaning & Restoration
Tiling and grouting are popular ways to finish kitchen and bathroom surfaces because these settings need durable materials that can sustain their conditions and heavy use.  Tile and grout surfaces are resistant to mildew, making them appropriate for areas where moisture can accumulate.  They also come in many colors, shapes, textures, and styles, so they are suitable for many designs and room concepts.  Although tiling and grouting respond well to regular cleaning, over time dirt can build up on tiles and mildew can grow in grout lines. A professional cleaner should be called in to correct these issues.
You can count on our professional cleaning and restoration services to bring back the original color and shine of tile surfaces in your West Dundee, IL, home. We use state-of-the-art equipment and cleaning products to achieve the best possible results.
Professional Tile and Grout Cleaning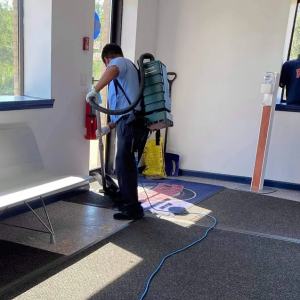 Tile and grout surfaces in areas subject to heavy foot traffic or frequent exposure to liquids, such as kitchens and bathrooms, are vulnerable to wear and tear. The protective finish wears off over time, making your tiles susceptible to dirt accumulation and staining. As dirt and moisture seep into the grout lines, mildew growth often occurs as well. Mopping will help reduce these issues and get rid of surface-level stains, but a complete restoration will require a professional to execute. With professional cleaning, you'll get a full removal of dirt and stains, and a revitalization of your tile's original luster and shine.
Nu-Gen Cleaning & Restoration knows that a clean tile and grout surface is just as important to the look of your home as it is to your health. Using advanced equipment, we deep clean and restore tile and grout; our safe, effective process eliminates dirt buildup and mildew and restores tiles to their original luster. Our service is customized with methods and products that are best suited for the specific tile type in your home. We also protect your tile with a finish after the cleaning job is complete.
Call Nu-Gen Cleaning & Restoration
Nu-Gen Cleaning & Restoration provides the West Dundee, IL area with tile and grout cleaning services to remove dirt, mildew, and stains and make your tile shine again. To schedule an appointment or request an estimate, give us a call at (815) 733-9123.