Nu-Gen Cleaning & Restoration
Fire damage restoration is a careful and time-sensitive process. It involves removing lingering smoke, soot, and other hazardous byproducts while also addressing other fire-related damage. Nu-Gen Cleaning & Restoration is an established fire damage restoration company that has been serving West Dundee, IL for 13 years. We are licensed and insured, and our technicians are certified in fire damage restoration.
Damage Caused by Fire and Smoke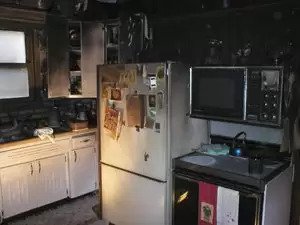 Fires can cause devastating damage. Flames burning everything in their path can destroy structures and create corrosive byproducts including smoke and soot when materials burn.
Many homeowners fail to realize that smoke, soot, and other corrosive byproducts created after a fire can cause as much damage as the fire itself. There need not even be a fire for these harmful byproducts to spread throughout a property; after the fire is out, they can seep into walls and materials, contaminating surfaces and causing reddish-brown tarnishing and etching. Our technicians can clean affected possessions and materials to remove soot and other contaminants, preventing permanent damage.
Our team of technicians begins fire damage restoration as soon as the property has been deemed safe by the local fire department. Soot, corrosive residue, and etching caused by the flames often result in the most damage to household surfaces. Our trained technicians can remove this damage from a variety of surfaces using specialized cleaning products and techniques. We can also inspect, and repair structural damage caused by the fire, and restore your property to its pre-fire state by removing any water damage that occurred during the firefighting process.
As part of our fire and smoke damage restoration service, we will:
Inspect your property for fire and smoke damage
Stabilize compromised building structures
Clean soot and residue produced by the fire
Repair damaged personal property and furniture
Correct water damage sustained during firefighting efforts
Remove, clean, and restore damaged property
Deodorize affected areas
For fire damage restoration and cleaning, we offer professional and reliable services held to the highest standards of quality. We provide comprehensive restoration of all fire damage and smoke residue. For any personal belongings that are damaged as a result of the fire, we offer transportation to our professional cleaning facility with our pack-out services. Your property will be cleaned, deodorized, and stored safely until your home is ready to inhabit again.
Call Nu-Gen Cleaning & Restoration for Fire and Smoke Damage Restoration
Fire and smoke are a devastating pair of adversaries. When these two elements strike, there is seemingly no end to the damage they can cause. Fortunately, there is Nu-Gen Cleaning & Restoration – a team that has been helping families and businesses get back on their feet after a fire or other disaster for over 20 years. We handle everything from water damage restoration services to pack out and storage, depending on your situation. Call us today at (815) 733-9123 for more information about how we can help with our fire damage restoration services in West Dundee, IL.
---
Related Fire Damage Cleanup Services
Smoke Restoration Crystal Lake, IL
Smoke and Fire Restoration Elgin, IL
Fire Damage Restoration Cary, IL
Fire Restoration Gilberts, IL
Smoke and Soot, Mundelein, IL