ServiceMaster Kwik Restore
Servicing Cary / Crystal Lake / Algonquin area since 1971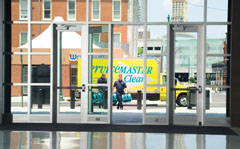 ServiceMaster fire damage restoration specialists are ready to handle emergencies in the Cary / Crystal Lake / Algonquin IL area 24/7, helping to restore your life to normal as soon as possible.  With our years of experience, we know that quick fire clean up can minimize your losses after the fire gets extinguished.
Our technicians can typically start cleaning fire damage in Chicagoland within three hours of your initial call, and we'll work with you throughout the fire cleanup to help you make the best decisions about repair, restoration or replacement of your property in the Cary / Crystal Lake / Algonquin IL area.
Our fire restoration service starts with a structural evaluation of major components of your residence, such as the roof, walls, flooring and insulation.  Chicago suburbs fire cleanup also includes removing smoke damage and repairing water damage from putting out the fire.
Fire Damage Restoration
Fire damage restoration of personal property is also part of the process for cleaning fire damage. Once ServiceMaster experts determine which items are reusable, they know exactly which cleaning method or restoration technique will be the most effective making the items usable again.
ServiceMaster fire restoration service professionals are fully trained in fire damage repair throughout the Cary / Crystal Lake / Algonquin IL area. They know how to find and treat the problems caused by smoke and fire. Plus, we'll coordinate our fire damage restoration with your insurance company to reduce stress after the accident and bring you peace of mind.
For fire restoration service in the Chicago suburbs of Cary / Crystal Lake / Algonquin, call ServiceMaster Kwik Restore at (815) 261-9195. We are available 24/7/365.
---
Related Fire Damage Repair Services Crystal Lake, IL
Fire Damage Restoration Elgin, IL
Fire Damage Cleanup Cary, IL
Commercial Fire Damage Restoration Algonquin, IL
Emergency Fire Damage Repair McHenry, IL
Smoke and Soot Removal Woodstock, IL