ServiceMaster Kwik Restore
Servicing Cary / Crystal Lake / Algonquin area since 1971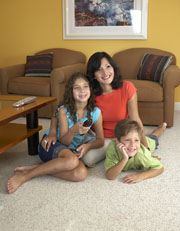 ServiceMaster Kwik Restore provides carpet and upholstery cleaning service throughout Cary / Crystal Lake / Algonquin area since 1971.  Regular carpet cleaning will keep your floors looking great, plus creating a healthier environment in your Chicago area home by removing dirt, dust and allergens.
Our carpet cleaning service includes inspecting and vacuuming your carpets, pre-treating spots, professionally cleaning the entire area and returning furniture to its original position.  High traffic areas such as stairs and hallways are given special attention as part of our carpet cleaning services.  ServiceMaster's carpet cleaning professionals know how to treat all types of carpet fibers, so you get the best results in your Chicagoland home.
Upholstery Cleaning
We also provide upholstery cleaning in the Cary / Crystal Lake / Algonquin area to help keep your furniture looking great. ServiceMaster upholstery cleaning technicians have the special tools and know-how to carefully and safely clean a wide variety of furniture fabrics.
Your carpet and furniture are a major investment in your Chicago metro dwelling.  Help protect that investment with ServiceMaster Clean carpet and upholstery cleaning services.
For carpet and upholstery cleaning in Cary / Crystal Lake / Algonquin, IL 60014, IL 60010, IL 60048, IL 60098, IL 60102 and more, call ServiceMaster Kwik Restore at (815) 261-9195. We offer FREE estimates.
---
Related Carpet Cleaning Services Crystal Lake, IL
Carpet Cleaning Elgin, IL
Carpet & Upholstery Cleaning Cary, IL
Carpet Cleaning Services Algonquin, IL
Professional Carpet Cleaning McHenry, IL
Shampoo carpet Cleaning Woodstock, IL