ServiceMaster Kwik Restore
Servicing Cary / Crystal Lake / Algonquin area since 1971
Backed by years of experience and one of the largest operations in the Chicago suburbs, ServiceMaster Kwik Restore in Cary / Crystal Lake / Algonquin is ready to help with one of the most difficult tasks confronting a property owner — water damage cleanup.
Water Damage Restoration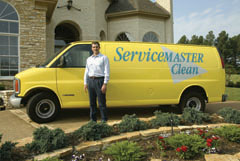 Water damage restoration service requires special skills because water flows on the path of least resistance, meaning the damage can spread quickly.  Water can be absorbed by porous materials, including wood and sheetrock, or seep under the substructure of floors.  Plus, while floods or burst pipes immediately indicate the need for water damage remediation in the Chicago metropolitan area, rain leaks or other water sources may not be evident until the problem has spread.
ServiceMaster professionals are specially trained in water damage restoration services for property throughout Cary / Crystal Lake / Algonquin area.  They start the process by using water detection probes and sensors to determine the extent of the damage and develop your water damage remediation plan.  They'll tackle the visible effects of moisture damage, as well the hidden problems that could lead to mold growth, rusted pipes or other issues.
The full range of water damage remediation in the Chicago suburbs includes repair or replacement of structural elements such as rotted wood or ruined drywall, and cleaning or protection of personal contents or decorative items.  Water damage cleanup starts with removal of excess water, and professional drying and dehumidifying to prevent mold growth.
Water Damage Remediation Professionals
ServiceMaster water damage remediation professionals are highly reputable, licensed and insured.  You can be confident we will do the job right and restore your Chicago area property to its original condition.  Also, if you made an insurance claim, our water damage restoration service includes helping you coordinate payment with your insurance company.
Use the forms on the right to request a quote for ServiceMaster water damage restoration service in the Cary / Crystal Lake / Algonquin area or call 815-261-9195 – available 24/7/365.
---
Related Water Damage Services Crystal Lake, IL
Water Damage  Restoration Elgin, IL
Water Damage Repair Cary, IL
Water Damage Cleanup Algonquin, IL
Water Removal McHenry, IL
Water Mitigation Woodstock, IL