Nu-Gen Cleaning & Restoration
Water damage to your home or commercial property can come from many sources–heavy rain, leaked air conditioners, overflowing tubs and showers, burst or frozen pipes, sewage backup; these are just a few examples of the many situations that require professional water damage restoration. Fortunately, Nu-Gen Cleaning & Restoration is a local full-service restoration company serving West Dundee, IL that provides emergency water extraction and 24/7 restoration services. Our technicians are IICRC certified in water extraction, and we have years of experience using the proper water removal methods for optimal drying results. We use moisture meters, blowers, and dehumidifiers to ensure your home or business is completely dry to restore your property and prevent mold growth.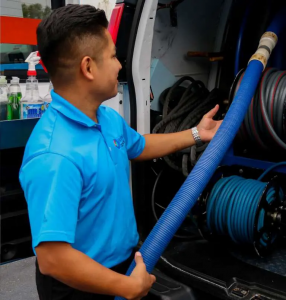 To prevent the spread of water to other areas, we start by containing any existing water to avoid further damage. It's important to limit the water from spreading through porous materials, as more damage may occur if this happens. Once we have contained the water, we then work to remove it from the affected areas with advanced drying equipment including dehumidifiers and blowers. Nu-Gen Cleaning & Restoration has performed countless water damage restoration jobs over the years, so you can rest assured that your project will be handled properly when you choose our team.
Water Restoration – What to Do
Remain calm. It is hard to think clearly in taking the proper steps when you are overwhelmed by the damage.
Call Nu-Gen Cleaning & Restoration as soon as possible to prevent the spread of damage.
Turn off the main water line to prevent additional water damage.
Place a piece of tin foil between furniture legs to prevent the water from traveling upwards.
Prop up any wet sofa cushions and pillows to allow for efficient drying.
Remove any wet area rugs from the floor.
Turn off the electricity in all rooms with standing water for your safety.
Remove all curtains from standing water.
Pick up any materials that may bleed into the carpet, including: pottery, clothes, printed materials, etc.
Water Mitigation – What NOT to Do:
Do not enter any room with severe structural or electrical damage.
Do not place any newspaper on wet carpet to use for walking. The ink from the paper will bleed onto the carpet.
Do not use a vacuum to remove the water.
Do not use any electrical appliances until they have been cleared by your technician.
Do not touch/disturb visible mold.
Our professional water damage restoration service includes:
Emergency Service and Job Site Inspections: We're available 24/7 in case of emergency. If you experience an unexpected water damage problem at your West Dundee home or business, call us as quickly as possible.
Water Extraction and Drying: Our team has all the heavy-duty equipment necessary to conduct a complete drying-out of your water-damaged property.
Reinstallation and Cleaning: Any damaged items will be removed and replaced, and your property will be cleaned thoroughly to restore it to its pre-water condition.
Structural Repairs: We use our specialized training to provide structural repairs to building materials that have been affected by the water damage.
Nu-Gen Cleaning & Restoration is the company to call when you're experiencing the effects of water damage in West Dundee, IL. Thanks to our IICRC professional certification and years of experience in the field, we can guarantee you a quick and effective service that restores your water-damaged property and makes it like new again. Whether you have a leaky pipe, basement flooding, storm damage, or another water-related issue, you can count on us to fix it. Contact Nu-Gen Cleaning & Restoration at (815) 733-9123.
---
Related Water Damage Services:
Water Damage  Restoration Elgin, IL
Water Damage Restoration, Gilberts, IL