While it is extremely important to prevent water damage, the majority of homeowners may not think that they are at risk. Unfortunately, there are many different sources that can contribute to water leaks and damage. It may start out small at first; however, it can go unnoticed until a pool of water is then discovered in the basement or crawlspace of a home. Water damage can also occur if the moisture levels on your property are particularly high. When this happens, beads of water can be soaked up by porous materials, such as drywall, compromising its structure. If not treated right away, it can also develop mold growth as bacteria begin to gather to the affected area. However, Nu-Gen Cleaning & Restoration provides 24/7 water damage repair services in Cary, IL. Using advanced equipment and products, our experienced technicians will extract all excess water in addition to treating mold growth for specific areas. We will also secure areas that are at risk for future water and mold damage.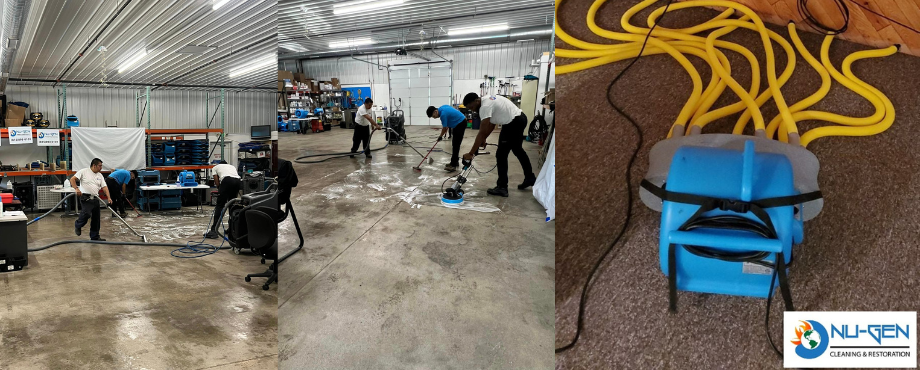 Water Remediation and Removal
Our water damage repair services include the following:
Complete water extraction
Dehumidification and drying
Restoration/replacement of water damaged surfaces
Odor removal
Cleaning of contents
Drying documents
Electronic restoration
Demolition
Actions to Follow When Dealing with Water Damage
Identify the Source of the Issue.: Locate the origin of the water intrusion, whether it's a ruptured pipe, malfunctioning fixture, or blocked drains.
Take Pictures of the Impacted Area. To prepare for insurance claims, ensure you capture comprehensive visuals of the water damage throughout the flood and the restoration procedure.
Initiate Water Cleanup: Contact a reputable water restoration firm in your area to execute water remediation, reducing the likelihood of mold-related issues.
Suspect Water Damage? Watch RestorationMaster Video:
Why Choose Nu-Gen Cleaning & Restoration Professionals
Round-the-Clock Emergency Assistance
Arrival in 60 Minutes or Less
Comprehensive Insurance Coverage & Licensing
Accept all Major American Insurance Providers
Flood Disaster Restoration
In addition to their years of experience, our technicians undergo frequent training in order to remain updated on all of the latest equipment and restoration trends. From leaks to seepage, they are knowledgeable in assessing the damage of all types of surfaces as well as being certified to perform the water restoration services. Our fields of expertise include: water damage extraction, sewage contamination cleanup, mold removal, reinstallation, dehumidification systems, corrosion control, and more.
Water Restoration – What to Do
Remain calm. It is hard to think clearly in taking the proper steps when you are overwhelmed by the damage.
Call Nu-Gen Cleaning & Restoration as soon as possible to prevent the spread of damage.
Turn off the main water line to prevent additional water damage.
Place a piece of tin foil between furniture legs to prevent the water from traveling upwards.
Prop up any wet sofa cushions and pillows to allow for efficient drying.
Remove any wet area rugs from the floor.
Turn off the electricity in all rooms with standing water for your safety.
Remove all curtains from standing water.
Pick up any materials that may bleed into the carpet, including: pottery, clothes, printed materials, etc.
Water Mitigation – What NOT to Do:
Do not enter any room with severe structural or electrical damage.
Do not place any newspaper on wet carpet to use for walking. The ink from the paper will bleed onto the carpet.
Do not use a vacuum to remove the water.
Do not use any electrical appliances until they have been cleared by your technician.
Do not touch/disturb visible mold.
Our flood damage cleanup process includes the following:
Assessment of the water damage as well as the measurement of moisture levels.
Extracting excess moisture or water with high-velocity air movers and dehumidification equipment.
Sewage backup cleaning and corrosion control (if applicable)
Contact Us for Water Damage Repair in Cary, IL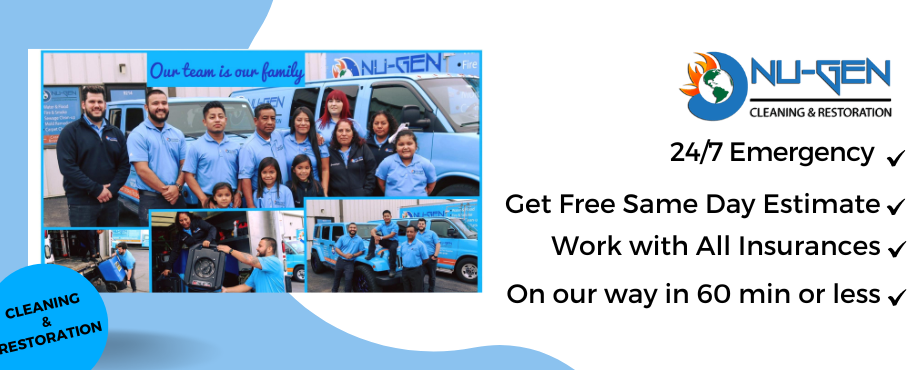 It can be extremely overwhelming to discover a flood or a severe amount of water damage in your property, especially if you have just returned after an extended period of time. However, Nu-Gen Cleaning & Restoration will not only extract the water from the damaged area, we will work with you to restore the damaged materials and belongings. We are available at (815) 569-0702 for water damage restoration services in Cary, IL and the surrounding communities.
---
Related Water Damage Services:
Water Damage  Cleanup in Elgin, IL
Water Damage Restoration in West Dundee, IL
Water damage remediation in Mundelein, IL
Water damage removal in Huntley, IL
Water mitigation after damages in Gilberts IL
Water damage reconstruction in Algonquin IL
Water damage recovery and restoration in Cary IL
Flood Disaster Restoration in Crystal Lake, IL
---
Related Water Damage Cleanup Tips
Wool rugs should be regularly cleaned so they don't build up dirt and their colors do not become dull. You can use a roller brush on the vacuum to keep it intact but still clean it. If the wool rugs are antique, they should be vacuumed no more than once every two weeks. You should also try to avoid the edges as they are very fragile and can ruin the look of the rug. Here are the steps to clean wool rug effectively:
1. Make sure to spot clean with a gentle solution
2. Use baking soda
3. Make sure to rotate your rug
4. How to deep clean a wool rug
5. Make sure to clean the rug with a gentle shampoo
6. You should use a scrub brush
7. Hire an expert
Water damage is a common problem in both homes and buildings as there are several possible causes that can go unnoticed. Rain or floods and internal issues such as burst or leaking pipes, fixtures, or roof leaks can result in excess water in your home. The extent of water damage can be misleading since it can seep into porous building materials. Although it may be tempting to tackle the damage yourself, it's advisable to engage a professional for water damage restoration as they have the essential expertise and equipment to effectively eliminate hidden water and moisture. Here are the reasons why:
The capability to locate the Hidden Water Damage and the Source of the Damage
Professional Grade Equipment
Quick Response and Restoration
Mold Remediation
Reduction of Health Risks
Reduction of Overall Costs and Losses
In some situations, you will be able to let the drywall dry out on its own, but you may wonder how long it will take. Generally speaking, wet drywall will take three days to dry out completely, but the actual answer varies from case to case and depends on numerous factors.
---
Water Damage Restoration FAQ
How long does it take to restore a home after water damage?
Typically, the water damage restoration procedure spans 3-5 days, yet the complete drying and restoration of property following indoor flooding might extend over several weeks. Promptly engaging a water damage restoration specialist to extract water and dry the premises will significantly reduce the overall restoration duration.
How long does it take mold to grow after water damage?
Mold damage emerges within 24 to 48 hours after water damage occurs and can wreak havoc on your belongings. Restoration specialists comprehend the critical nature of the situation and respond promptly, arriving without delay.
Are there any structural considerations when restoring water-damaged areas?
Yes, structural consideration is highly important. Different types of structural materials like wood, concrete, bricks, or stones will require different water damage restoration and repair methods. An experienced water damage restoration technician like Nu-Gen Cleaning & Restoration will implement the best restoration and repair method for your house's structure.
Why and How People Choose a Professional Contractor After a Home Disaster?
---
Recent Reviews
Review by

Kelly Ann
Rating

It is only the first day and the so far the professionalism and the kindness of the workers the cleanup and care of my property and furniture is above and beyond any company I have seen!! Absolutely outstanding and professional company hands down so far!!! Third day!! So far I have had Fransisco Jose Sha-ron Zeke Nick Joey as crew members and all absolutely amazingly outstanding truly and amazing company through and through their professionalism is by far hands down amazing! Great company great workers fast and thorough the owner Moises is on top of everything he actually came out he has had no issues answering questions when I needed I mean when they work for you.. they truly work for you with the utmost care and professionalism and the cleanliness it's unbelievable!
---
Review by

Stephen Abbs
Rating

I had a pipe freeze and burst at my home in the very early hours of Christmas Eve, around midnight. The water damaged my kitchen and went into my basement as well. I called Nu-Gen around 2:00am and Olga answered the phone and set up an appointment for me for the same day, between 8:30-9:30. After calling my insurance company, they said they would send out their own mitigation service so I cancelled my appointment with Nu-Gen. Well, the service that my insurance company contracted never showed up, but to my surprise Olga called me that afternoon to check on things and make sure I was okay. I was incredibly grateful for her checking on me because my insurance company failed me at that point. Later that afternoon Moises, the project manager, came out to assess the situation. They immediately set up the mitigation process and during the next couple of weeks, Moises - and his wonderful crew - Jose and Joey, were out several times to check on the progress of the drying and mitigation process. I am forever grateful for Nu-Gen's help and guidance throughout this entire process. I've recommended their services to my insurance company as well so that they could now have a reliable mitigation service to use in the area and I also expect to use Nu-Gen for the reconstruction work as well.
---
Review by

Dylan
Rating

Jose and Leti were wonderful, a third gentleman came to assist, I didn't get his name but they worked well together to solve a tricky dryer vent issue. After spending over an hour cleaning a vent that was no longer in use from second floor( unbeknownst to all of us) we learned previous owners rerouted out the roof. Not once did they act like they were annoyed by this discovery. Very professional and very friendly. I cannot recommend them enough. Great Job Nu-Gen.