Nu-Gen Cleaning & Restoration
Servicing Cary / Crystal Lake / Algonquin area
Carpeting tends to be the most important furnishing that affects the overall look and feel of a home or office. However, they are often ignored when it comes to regular cleaning and maintenance. Vacuuming alone does not remove embedded debris or stains that can build up and wear down your carpet over the years; it's up to professional services to get your carpet back in its original condition.
Nu-Gen Cleaning & Restoration provides professional carpet cleaning services for homes and businesses in Gilberts, IL, and the surrounding areas. All of our technicians are highly trained, experienced professionals that use advanced, truck-mounted cleaning equipment to safely and effectively clean any type of carpet. We will clean your carpets with professional care, making sure that your carpeting looks as good as new.
Professional Carpet Cleaning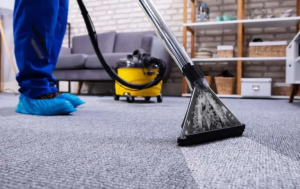 Carpets in commercial and residential settings are vulnerable to dirt and debris. When foot traffic is high, carpet fibers can become discolored. If not cleaned periodically, this can cause the carpet's deterioration. Homeowners should have their carpets professionally cleaned at least once a year. Businesses should hire a professional for more frequent cleaning because of the higher traffic that occurs in such settings.
Nu-Gen Cleaning & Restoration specializes in truck-mounted hot water extraction. This process is a superior method of carpet cleaning that dries carpets within hours and discourages the growth of mold and mildew. It uses deep suction, facilitated by a truck-mounted system, to deposit hot water and detergents into the carpet and then pull it back out to remove deep-down pollutants. Hot water extraction fully removes all the detergent and water inserted so that no residue or chemicals are left behind.
We perform each of the following during our carpet cleaning service:
Assess the carpet's condition
Pre-treat any existing spots or stains
Pre-spray the carpet
Clean the carpet using truck-mounted hot water extraction
Remove odors in the carpet (as necessary)
Protect carpet with Scotchgard (optional)
Dry the carpet with heat, ventilation, and dehumidification
When your carpet in Gilberts, IL needs to be restored or cleaned, call Nu-Gen Cleaning & Restoration. We have the equipment and state-of-the-art cleaning products necessary to completely restore your carpet. We work within 2 hours of your appointment time and can also provide an estimate over the phone. Reach us at (815) 733-9123.
---
Related Carpet Cleaning Services Gilberts, IL
Carpet Cleaning Elgin, IL
Carpet & Upholstery Cleaning Cary, IL