Nu-Gen Cleaning & Restoration
Tile and grout surfaces are often used in kitchens and bathrooms because they hold up well under the high-moisture conditions of these areas as they are resistant to mold and drain easily. Tile is also a versatile decorating material because it comes in many cuts, colors, and designs, making it possible to find the perfect match for just about any room. Tile and grout surfaces can be easily incorporated into new or existing kitchen and bathroom designs. However, dirt buildup over time can lead to mildew and a dull, worn finish. To remove built-up dirt and mildew and restore your tile, call a professional cleaning service.
Nu-Gen Cleaning & Restoration uses professional-grade cleaning equipment and products to clean, restore, and maintain tile and grout surfaces in Gilberts, IL. Our team strives to restore your tiles' color and shine while removing unsightly dirt, stains, and mildew.
Professional Tile and Grout Cleaning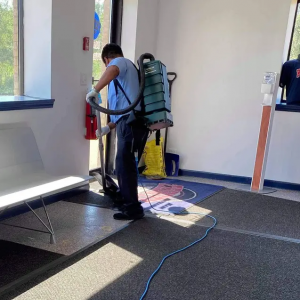 Tile and grout surfaces in kitchens, bathrooms, and other heavily used areas can eventually start to look dirty, worn, or stained. Repeated use causes tiles to lose their protective finish, allowing dirt to accumulate and stains to form. Dirt and moisture also collect in the grout lines, which causes the formation of mildew. Correctly mopping your tile and grout regularly is a great option for helping them look clean, but unfortunately, it doesn't dig deep enough to fully restore worn-out tiles or remove deeply-embedded dirt and stains. If you want a complete restoration of your tile and grout surfaces, you will need to call a professional.
Nu-Gen Cleaning & Restoration cleans and restores tile and grout using professional-grade equipment that removes dirt, mildew, and other stains. Our team performs an assessment of your tile so that we use the method most suitable for your tile type (e.g., ceramic, porcelain, travertine) and grout mixture (e.g., cement, ceramic beads). We will also apply a protectant that will help your tile and grout retain their luster.
What's included in our tile and grout cleaning service:
Assess and inspect your tile and grout
Treat spots and staining
Clean your tiles with high-pressure cleaning techniques
Dry off tile and grout surfaces
Apply a protective finish
Call Nu-Gen Cleaning & Restoration
Nu-Gen Cleaning & Restoration has the tools and training to restore your tile and grout surfaces to a thoroughly clean and unblemished state. Contact us at (815) 733-9123 for professional tile and grout cleaning services for your Gilberts, IL home or business.