Nu-Gen Cleaning & Restoration
The presence of mold in homes and buildings is not only unsightly, but it's dangerous, both to your property structure and your health and safety. As spores from the mold are dispersed into the breathing air, they can trigger respiratory issues and allergic reactions, not to mention long-term health effects.
Mold can grow in any area of the home where there is excess moisture. As it develops, spores latch onto porous building materials and consume the cellulose within them, using the moisture and organic material as food sources. As the mold consumes the building materials, critical structural damage can occur to your home or building, making it imperative to reach out to a professional.
Nu-Gen Cleaning & Restoration is available in Elgin, IL and the surrounding areas to provide complete mold removal services for homes and buildings. Our experts are licensed, trained, and equipped to identify all contaminated areas, prevent the mold from spreading, and eliminate it at the source.
Problems with Mold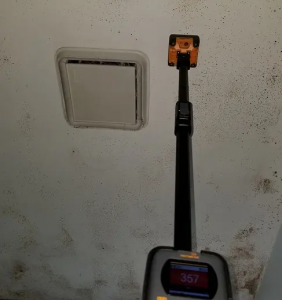 If water damage is not treated right away, mold can start growing in as little as 48 hours after excess moisture and bacteria have accumulated in a particular area. It most often grows on drywall, wood, upholstery, and carpeting; anything that contains its natural food source, cellulose. Over time, affected materials will experience discoloration and deterioration, leading to permanent damage. To make matters worse, they disperse their spores into the air in search of new breeding grounds.
One of the main concerns of mold growth is that it is very dangerous to humans and pets. Critical health issues like allergies and even asthma conditions can occur. Common symptoms include skin irritation, coughing, headaches, itchy eyes and throat, nasal congestion, and more.
Our technicians at Nu-Gen Cleaning & Restoration will react quickly as soon as we receive your first call, identifying the affected areas, preventing the mold from spreading, and removing it at the source. The remaining building materials will then be restored or replaced, fully restoring your property to its original condition.
Discovering Mold – What to Do:
Call Nu-Gen Cleaning & Restoration right away for a free estimate on mold removal.
Wear protective eye wear, glasses, and gloves when present around mold.
Look for signs of mold growth on air registers and your HVAC system.
Turn on ceiling fans and the air conditioning unit to increase air flow throughout the property.
Run a dehumidifier.
Wipe off walls containing condensation.
Discovering Mold – What NOT to Do:
Do not try to remove the mold yourself; improper cleaning techniques can aggravate it and encourage it to disperse spores.
Do not disturb mold colonies.
Do not paint or caulk over any moldy surfaces.
Do not place any fans near mold.
Our mold remediation services include each of the following:
Detailed inspection and evaluation of the extent of the damage.
Sending a copy of the inspection and evaluation report to your insurance agency.
A containment chamber is set up in each of the affected areas to prevent it from spreading.
A mold removal plan is created.
Complete mold remediation using chemical cleaners and advanced methods.
The affected building materials and surfaces are cleaned and restored.
As soon as you discover mold on your property, it's important to take action right away to protect the health and safety of you and everyone on the property. Don't hesitate to give us a call to start the mold remediation process.
Get a Free Estimate
Nu-Gen Cleaning & Restoration is available at (815) 733-9123 in Elgin, IL and the surrounding areas to provide mold removal services for homes and buildings. We also provide free estimates.
Related Mold Removal Services Elgin, IL
Mold Remediation Services Cary, IL
Mold Removal Services Crystal Lake, IL