(815) 733-9123
There are many Americans that deal with the consequences of hoarding on a daily basis which can seriously threaten the health and safety of those involved.  Hoarding is now considered a mental disorder with underlying anxiety issues that lead to the inability of those affected to throw away any objects they have collected in their homes.  As the hoard of items expands, the risk of injury, fires, and the presence of harmful substances such as mold and bacteria increases.  Nu-Gen Cleaning & Restoration provides hoarding cleaning services in Elgin, IL to help clean and restore homes affected by hoarding.  We approach the affected individual with compassion and respect and we make sure to involve them in the planning and cleaning process.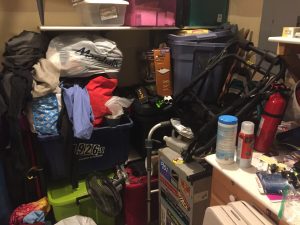 The collection of hoarded items can quickly create dangerous conditions in the home but those who struggle with hoarding rarely reach out for help themselves.  Many hoarders are embarrassed by the condition of their homes.  A close friend or family member must realize that the individual needs help and intervene before the situation becomes too dangerous.  We understand the sensitivity involved with cleaning a hoarder's home and we make sure that they are involved in the planning process and give them final say on what to do with each object.
At Nu-Gen Cleaning & Restoration, we are trained, licensed, and equipped to handle cleaning and restoring homes that have been significantly affected by hoarding.  We use only the best cleaning products and equipment of the industry to thoroughly clean and restore the home to sanitary living conditions.  We work in compliance with OSHA, EPA, and Department of Transportation guidelines and we are prepared to safely remove any biohazard materials we may encounter.
Our hoarding cleaning services include these steps:
Decontamination: We fully remove all unwanted items and then thoroughly clean and disinfect the home.
Odor Removal: We use powerful deodorizers to completely remove any lingering odors.
Proper Disposal: Every item removed from the home is either thrown away, recycled, or donated and biohazard materials are taken to a specialized facility for safe disposal.
The most common behaviors of hoarding have very dangerous consequences which is why it is important to reach out to those you suspect may be hoarding.  The technicians of Nu-Gen Cleaning & Restoration can clean and restore the home back to safer and healthier living conditions.  You can call us anytime at (815) 733-9123 for more information about our hoarding cleaning services in Elgin, IL.
---
Related Hoarding Cleaning Services Elgin, IL
Hoarding Cleanup Cary, IL