Mold growth within a home is typically a result of excess moisture from flooding or a leak and the longer it goes untreated, the more damage and health hazards it could lead to.  ServiceMaster EMT provides mold remediation services to homes and businesses in Santa Fe Springs, CA as well as L.A. and Orange counties.  We can remove all mold growth from your property and repair or replace surfaces that have been affected.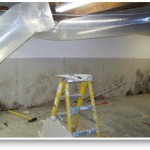 Usually mold growth is a sign of water damage which is why our technicians begin the mold remediation process by testing the property for moisture.  These tests help us discover how long the property has been exposed to moisture, how much moisture has been absorbed, and how deep the moisture has penetrated.  After these tests, we begin the mold removal process using the best cleaning products and procedures of the industry to completely remove mold and prevent it from spreading to unaffected areas.
Our mold remediation process includes:
Finding and fixing the moisture source.
Cleaning or replacing surfaces with mold growth.
Keeping workers, clients, and their property protected as we work.
Containing the mold growth to the affected areas.
If mold growth is not removed quickly, it could lead to permanent property damage as well as possible health problems.  Contact ServiceMaster EMT at 949-877-1999 once you discover mold to have it removed.  We provide emergency mold remediation services to Santa Fe Springs, Orange County and LA California.
---
Related Mold Removal Services
Mold Remediation in Huntington Beach, CA
Mold Removal in Anaheim, CA
Mold Remediation in San Diego, CA