Mold growth can occur for a number of reasons related to elevated moisture levels and if it goes undetected, it could cause permanent damage to property and increase the risk of health problems.  ServiceMaster EMT provides mold remediation and cleanup services to homes and businesses in Huntington Beach, CA 92647 as well as the towns of L.A. and Orange counties.  We completely remove mold growth from your property and replace or repair any damaged surfaces.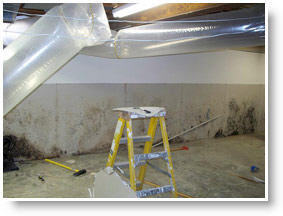 Because the presence of mold is typically a symptom of water damage, the technicians of ServiceMaster EMT Restoration start our mold remediation services by inspecting the property for moisture exposure.  This inspection helps us determine the length of time of the exposure, the amount of moisture that was absorbed, and how deeply the moisture was absorbed.  We then begin the mold remediation process in which we remove mold growth using the most advanced cleaning products and procedures available and make sure to keep the mold from spreading to unaffected areas.
Our mold remediation process includes:
Locating and repairing the source of the moisture.
Cleaning or replacing affected surfaces.
Keeping workers, clients, and their property protected.
Preventing the mold from spreading to other areas.
Mold growth not only damages property, but it could also lead to serious health problems which is why it is important to contact ServiceMaster EMT at 949-877-1999 as soon as you discover mold.  We can be contacted 24 hours a day for mold remediation in Huntington Beach, CA 92647 and Orange and L.A. counties.
---
Related Mold Remediation Services
Mold Remediation in Anaheim, CA
Mold Removal Services in Santa Fe Springs, CA
Mold Remediation in San Diego, CA