Construction jobsites are often hazardous environments and even after the work is done, there is typically dust and other debris such as nails left behind that need to be cleaned out to make the area safe.  ServiceMaster EMT provides construction cleaning services for commercial and residential jobsites in Huntington Beach, CA 92647 as well as the communities of L.A. and Orange counties.  Our technicians will remove dirt, dust, and leftover materials from the construction site and make it safe to enter.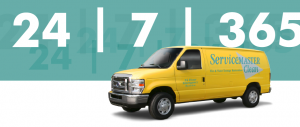 The debris left behind on a construction site may include sheet rock, dust, scrap, nails, screws, ceiling parts, and plumbing parts that can make the scene somewhat dangerous.  The remaining dirt and dust can also cause respiratory problems and even clog or damage the ventilation system of a building.  The technicians of ServiceMaster EMT use the proper equipment and procedures to effectively clean up construction sites while following local codes and insurance requirements.
Our post construction cleanup process includes:
Paint overspray cleaning
Dusting air diffusers
Cleaning lights
Damp cleaning restroom fixtures
Spot cleaning walls
Spot cleaning interior glass
Vacuuming and spot treating carpets
Damp mopping hard-surface floors
We work directly with each client during the construction cleaning process to get the job done right for a clean and safe environment.  Our staff begins the construction cleaning services by assessing the property to create a plan and a timeframe for the work based on the specific needs of the property.  We provide a copy of the plan along with a detailed estimate to the client as well as their insurance provider.  A field supervisor is assigned to each project to keep the client and their insurance company updated on the claim.
Contact ServiceMaster EMT at 949-877-1999 for post construction cleaning services in Huntington Beach, CA 92647 or L.A. and Orange counties.  Our staff is standing by 24 hours a day, 7 days a week to take your call.
---
Related Construction Cleaning Services
November 14, 2019
Aza Pitchenik
Henderson, CA
November 13, 2019
ServiceMaster treated me with respect, dignity, and patience. Especially Ivan, Jerardo, Laura, Jungi, Carlos regarding my water claim. They were flexible in scheduling when we both needed flexibility(me due to having to come from the Hilton where I was staying, and them due to emergency calls from residents out of this area.) They treated moving furniture and contents delicately. The took the time to answer questions which gave me an added sense of comfort. Please share the above comments with them. Thank you for your service [NAME REMOVED]
More Reviews