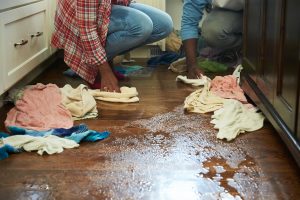 Because of the important role water plays in our lives, people tend to forget how water can be severely damaging to homes and buildings. The building materials used for properties can easily absorb water, and this absorption will ruin the materials and encourage mold to start growing.
From rain to natural flooding to burst pipes to plumbing leaks, properties can suffer water damage in multiple ways. This damage needs to be addressed as soon as possible, because it will continue to cause structural damage and will encourage mold growth.
Serving Huntington Beach, CA, ServiceMaster EMT will help homes and businesses that have suffered water damage by providing water damage restoration services. We will remove standing water and excess moisture from the damaged property by using our specialized water extraction and drying equipment. Our technicians then move on to restoring your property of the damage.
Damage Caused by Excess Water
When porous building materials and furnishings absorb water, the water spreads through these items, which allows the damage to worsen. Knowing this, it's crucial to respond immediately to any water damage regardless of the amount. The more water that porous materials absorb, the more structural damage there is.
With excess water, there's also the concern of mold growth, because these conditions encourage mold spores to germinate and grow. Water damage can also become permanent if you don't act right away.
Water Damage Restoration Huntington Beach, CA
ServiceMaster EMT can be reached for our professional water damage restoration services in Huntington Beach, CA, and the surrounding communities by calling (949) 877-1999.
Take the following steps if your property has flooded or suffered water damage:
Seek help from ServiceMaster EMT's professional water damage restoration services.
Eliminate excess water by mopping it up or by blotting it dry.
Hang up your draperies on a coat hanger so that they stay off the floor. Then, hang the coat hanger up on the curtain rod.
Prop up cushions up so they can dry and wipe down any water on the furniture.
Find a safe and dry place where you can keep your documents, artwork, photos, and other valuable objects.
Have your water-damaged books packed tightly together on a bookshelf so that their pages don't become warped.
Keep cabinet and closet doors open to let them dry more thoroughly.
Refrain from doing the following if your property has flooded or suffered water damage:
Do not, if the electricity is on, enter a room that has standing water.
Do not extract excess water by using a standard vacuum.
Do not try to get rid of any carpeting and other permanent flooring.
Do not use or operate any electrical appliances on a wet floor.
Do not try to clean up any mold that has grown.
Water Damage Restoration Process
No matter the extent of the water damage, our technicians are equipped to handle the damage and conduct a complete restoration. Prior to cleaning and restoring the damaged areas, we will extract the water and moisture by using advanced water extraction and dehumidification equipment.
When we conduct water damage restoration work, you can expect the following:
Standing water extraction
Dehumidification and drying of areas and furnishings that were damaged
Damaged area cleaning and restoration
Upholstery, area rug, and carpet cleaning
Electronic equipment restoration
Water Restoration Services
Due to the serious damage it can cause to your residential or commercial property, indoor flooding must be dealt with right away. Your home or building will be filled with water, and this standing water will then become absorbed by the surrounding porous building materials. This absorption can then cause severe structural damage. Our technicians will remove the standing water with water extraction equipment.
Not only can water damage cause structural damage, but it can lead to mold growth as well, which is why it's crucial to address water damage immediately. In the event that your property has sustained water damage, then you need to contact ServiceMaster EMT for help.
Contact Us
ServiceMaster EMT can be reached at (949) 877-1999 at all hours of the day for our emergency water damage restoration services in Huntington Beach, CA.
---
Related Water Damage Restoration Services:
Water Damage Restoration Santa Ana, CA
Water Damage Restoration Lake Forest, CA
Water Damage Restoration Anaheim, CA
Water Damage Restoration Santa Fe Springs, CA
Water Damage Restoration San Diego, CA 
Water Damage Restoration Los Angeles, CA
Water Damage Restoration Ontario, CA
More Reviews