949-877-1999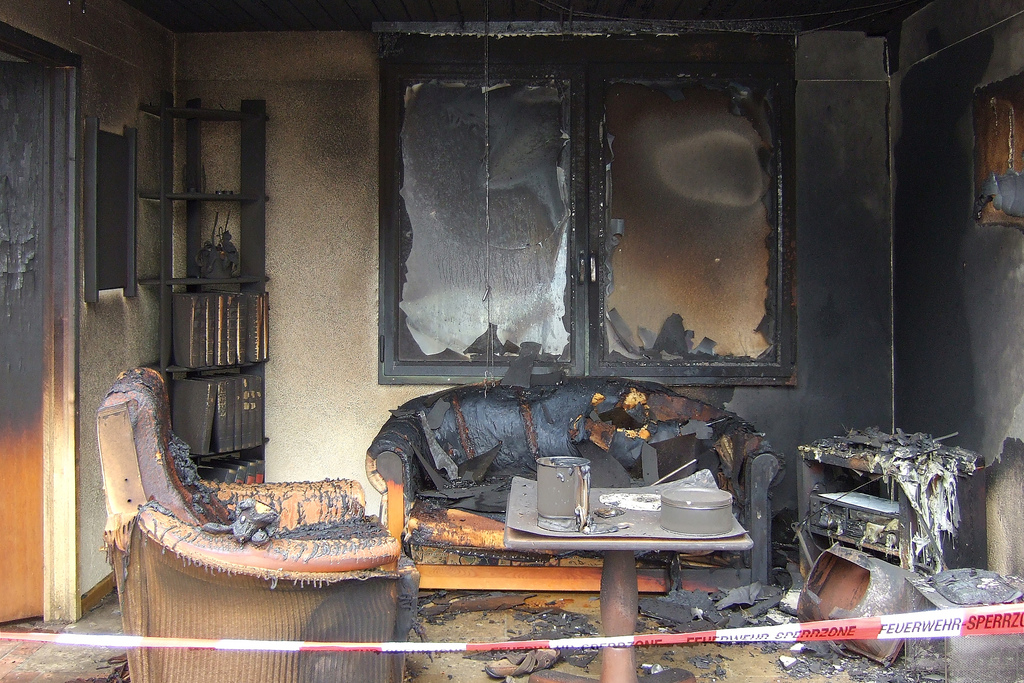 When a fire breaks out in your residential or commercial property, not only are people's lives in danger, but your property is susceptible to serious damage. Because of this, a fire is known to be one of the most devastating disasters, especially considering how a fire can break out at any time.
Fires also spread quickly, which means they can swiftly cause serious damage. Knowing this, the fire needs to be extinguished as soon as possible. However, the damage will continue even after the flames are out. Smoke, soot, and other corrosive byproducts cause secondary damage that will continue to cause harm until your home or business is thoroughly cleaned and restored.
Serving Huntington Beach, CA, ServiceMaster EMT will help homes and businesses that have suffered fire damage by providing fire and smoke damage restoration services. We begin our services by immediately stabilizing the building, which prevents your property from suffering further damage. Then we continue by moving to the pre-cleaning process, restoring the objects and materials that were damaged by soot and smoke.
Fire Damage Restoration Huntington Beach, CA
When there's a fire, there are different layers of damage to worry about. First, there's the initial damage that is done by the flames. There's also the secondary damage from corrosive byproducts, such as residue, smoke, and soot. These are created as a result of synthetic materials being burned, and they will remain after the fire is out. Because of this, corrosive byproducts can damage your property long after the flames are extinguished. This is why the restoration work on your property must begin immediately to prevent the damage from worsening.
Among the types of damage that corrosive byproducts can cause include discoloration and etching. If not cleaned properly, this damage becomes permanent. ServiceMaster EMT can handle cleaning items affected by smoke and soot because we have the proper cleaning products to get the job done. Whether the damaged material includes carpeting, upholstery, aluminum, tile, or other household surface, our technicians can restore it. We can also provide water damage restoration services to repair structural damage from the fire hoses.
Fire Restoration Services
ServiceMaster EMT can be reached at (949) 877-1999 for our emergency fire damage restoration services in Huntington Beach, CA.
By taking the following actions, you can help limit the fire damage your property has suffered:
Contact ServiceMaster EMT promptly to get help from our emergency fire and smoke damage restoration services.
Assuming the temperature is above 60 degrees outside, air out your property by opening up all doors and windows.
To prevent damage, wipe off porcelain, Formica, chrome, and aluminum surfaces.
Replace the air filter in your furnace.
Filter soot from the air by placing a damp cheesecloth over every return and supply register.
Throw away your food containers.
If the electricity is out, completely clean your refrigerator out.
If any clothing has suffered smoke damage, then save it for specialized dry-cleaning services.
Following a fire, refrain from doing the following actions:
Do not touch soot-affected surfaces, because your hand's oils can worsen the damage it has suffered.
Do not clean soot damage, because cleaning it incorrectly can worsen the damage.
Do not clean your upholstery or carpeting.
Do not use any electrical appliances unless they were inspected and deemed safe to use.
Do not, if they are hanging from a wet ceiling, use ceiling fixtures.
Fire Damage Restoration Process
ServiceMaster EMT's technicians have the necessary training and equipment to conduct repairs and restoration for fire-damaged homes and businesses. We will take care of the whole fire damage repair process, including treating damaged materials and repairing structural elements, and we will restore your home or business to its previous condition.
We included the following within our fire restoration services:
Board-ups and stabilization
Cleaning up soot
Damaged content and building material cleaning
Restoring electronic equipment
Restoration dry cleaning
Pack-out services
Smoke Odor
A non-physical result of a fire, smoke odors can continue to linger for a while, including after the complete restoration. This is because smoke odor particles become absorbed by and then trapped in porous materials. Our technicians can effectively extract these materials from the affected air spaces and materials by using advanced deodorization equipment and techniques, including thermal fogging, hydroxyl technology, ozone technology, and Nano carbon technology.
Get immediate help following a fire on your property because the damage only gets worse with more time. ServiceMaster EMT's technicians will get started as soon as possible, limiting the damage and then completely restoring your home or business.
Contact Us
For our emergency fire and smoke damage restoration services in Huntington Beach, CA, give us a call at (949) 877-1999, where we are available 24 hours a day.
---
Related Fire Damage Restoration Services:
Fire Damage Restoration Santa Fe Springs, CA
Fire Damage Restoration Anaheim, CA
Fire Damage Restoration San Diego, CA
Fire Damage Restoration Lake Forest, CA
Fire Damage Restoration Los Angeles, CA
Fire Damage Restoration Ontario, CA
May 2, 2021
Sandra Hunt
Las Vegas, NV
Brandon did an excellent job on water damage demo work. He is extremely knowledgeable, punctual and goes out of his way in the areas of communication, cleanliness/protection of affected/non affected areas and worked tirelessly to get the job done-including weekends. I would highly recommend Brandon with Service Master Restoration
More Reviews