(714) 975-8448
It is difficult to imagine a worse disaster than a fire as fires cause devastating damage to homes and buildings and put lives at risk.  A fire can start at any time and it only take a few minutes for it to spread and affect a significant area of the property.  It is important to have the fire put out as quickly as possible, but the damage does not stop once the flames are out.  Corrosive byproducts like smoke and soot are still present and will continue to cause damage until the building is effectively restored.
ServiceMaster EMT provides fire and smoke damage restoration services in Anaheim, CA to repair the damage caused by the fire and clean the effects of smoke and soot.  Our technicians will stabilize the building immediately to prevent further damage and start the pre-cleaning process to restore objects and materials damaged by smoke and soot.
Fire Damage Issues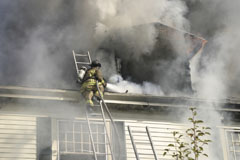 Fires cause many different layers of damage as the flames destroy furnishings and structural elements and the corrosive byproducts left behind will continue to spread and damage objects and building materials after the fire is out.  Corrosive byproducts like smoke, soot, and residue are created when synthetic materials are burned by the flames.  These elements will still be lingering after the fire which is why it's important to start the restoration process quickly.
The objects and materials affected by soot and residue will experience discoloration and etching which will become permanent without proper cleaning.  Our technicians have the right cleaning products to effectively remove the effects of soot and residue from a range of household materials including aluminum, chrome, brass, tile, porcelain, carpeting, and upholstery.
Fire Damage Restoration Anaheim, CA
For emergency fire damage restoration services in Anaheim, CA, contact ServiceMaster EMT at (714) 975-8448.
If a fire occurs on your property, you can help limit the damage by taking the following actions:
Call ServiceMaster EMT immediately for fire damage restoration
Open doors and windows to air out your property if the temperature is above 60 degrees
Wipe off aluminum, chrome, porcelain, and Formica surfaces to prevent damage
Change the air filter of your furnace
Put a damp cheesecloth over each return and supply register to filter soot from the air
Dispose of food containers
Clean your refrigerator out completely if the power is out
Save smoke damaged clothing for specialized dry-cleaning services
You need to avoid these actions after a fire has occurred:
Do not touch surfaces affected by soot because the oils of your hand can worsen the damage
Do not try to clean soot yourself because you can make the damage worse with improper methods
Do not try to clean your carpet or upholstery
Do not use electrical appliances until they are inspected and deemed safe
Do not use ceiling fixtures hanging from a wet ceiling
Fire Restoration
Our technicians have the proper training and equipment to fully repair and restore homes and buildings damaged by a fire.  We will handle everything from structural repairs to the treatment of objects and materials damaged by soot to get your property restored to its previous condition.
Our fire damage restoration services may include the following:
Board up and stabilization
Soot cleanup
Water damage restoration if necessary
Cleaning of damaged building materials and content
Carpet, rug, and upholstery cleaning
Electronic equipment restoration
Restoration dry cleaning
Smoke Odor
Not all of the damage caused by a fire is physical as smoke odors can linger long after the fire and even the restoration is complete.  Smoke odors are pervasive and difficult to remove because the odor particles get absorbed and trapped in porous materials.  Our technicians use advanced deodorization equipment and methods, including zone technology, hydroxyl technology, thermal fogging, and Nano carbon technology, that can effectively extract odor particles from the affected materials and air spaces.
The damage from a fire will only get worse if you hesitate to start the restoration, even after the fire is out.  Our technicians at ServiceMaster EMT will immediately begin limiting the damage from fire, smoke, and soot so we can fully restore your home or building.
Contact Us
We are available 24 hours a day at (714) 975-8448 for emergency fire damage restoration services in Anaheim, CA.
---
Related Fire & Smoke Damage Restoration Services:
Fire Damage Restoration Lake Forest, CA
Fire Damage Restoration Santa Ana, CA 
Fire Damage Restoration Huntington Beach, CA
Fire Damage Restoration Santa Fe Springs, CA 
Fire Damage Restoration San Diego, CA 
Fire Damage Restoration Los Angeles, CA
Fire Damage Restoration Ontario, CA
More Reviews