(714) 975-8448
Encountering or experiencing a scenario involving a violent crime or serious accident can be very traumatic but knowing how to react in these situations is important for your safety.  Trauma and violent crime scenes normally involve dangerous biohazard materials such as blood and other bodily fluids that can spread infection and disease if they are not cleaned up properly.
ServiceMaster EMT provides trauma and crime scene cleaning services in Anaheim, CA to safely clean up biohazard materials.  We can effectively remove blood and bodily fluids from serious accidents and death scenes as well as mold, sewage, and other biohazard materials.
Biohazard Cleanup in Anaheim, CA

Each of our technicians have the training and certification to safely remove all types of biohazard materials including blood, tissues, mold, sewage backup, and dangerous chemicals.  The cleaning equipment and products we use are the best in the industry and we keep our technicians safe with personal protective equipment (PPE).
All biohazard materials contain dangerous toxins or bacteria that spread disease and infection which is why it is important to make sure they are cleaned up by a certified professional.
Our biohazard cleaning services are within compliance with OSHA and state health regulations, include the following:
Sewage backups
Paint and chemicals
Serious injuries
Violent crime scenes
Homicides and suicides
Unattended death scenes
Crime Scene Cleaning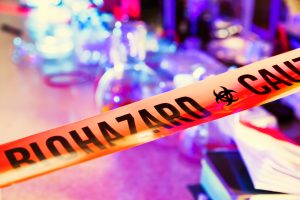 If a major accident or violent crime has occurred involving a serious injury or death, you must take action quickly to begin the crime scene investigation.  It is important to contact law enforcement officials if a crime has been committed as well as our professionals to clean and restore the scene.  Our technicians are highly trained to cooperate with law enforcement to avoid jeopardizing the crime scene investigation as we clean.
We also have an understanding of the overwhelming emotions experienced by friends and family members of the victim and we make sure to work discreetly and with a sense of compassion to help ease the stress.
You can expect the following from our trauma and crime scene cleaning services:
Highly trained, compassionate, and respectful technicians
Complete removal of all biohazard materials as well as cleaning and disinfection of the area
Safe disposal of biohazard materials at a licensed facility
Compliance with local, state, and federal regulations and safety standards
Biohazard materials are dangerous to handle in all scenarios so if you encounter a trauma or crime scene involving biohazard materials in Anaheim, CA, contact ServiceMaster EMT immediately.  We can safely restore trauma and crime scenes containing biohazard materials and we also work with respect and compassion for those who are grieving a loss.
Available 24/7
You can reach us 24 hours a day at (714) 975-8448 for trauma and crime scene cleaning services in Anaheim, CA.
---
Related Trauma and Crime Scene Cleaning Services:
Biohazard Cleanup Lake Forest, CA 
Biohazard Cleanup Huntington Beach, CA
Biohazard Cleanup San Diego, CA
Biohazard Cleanup Los Angeles, CA
Biohazard Cleanup Ontario, CA
Biohazard Cleanup Santa Fe Springs, CA
More Reviews