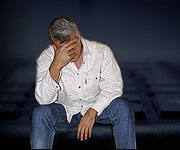 Trauma scene clean up and biohazard clean up require professional experts to get the job done safely and correctly.  Bio clean up may also be required for other reasons, such as floods or sewage backup that leaves germs and other hazardous contaminants in Los Angeles and Orange County, California properties.
When encountering the scene of a crime or violent accident, taking steps to call the local authorities is critical. While they will respond immediately to gather all necessary evidence, they will not take care of the cleanup. This job requires the skills of a professional biohazard cleanup company.
ServiceMaster EMT has the skills, equipment and experience to handle any human biohazard cleanup in Los Angeles, CA, whether caused by traumatic injury, suicide, homicide, or other unattended death.
Biohazard Cleanup Los Angeles, CA
Biohazard cleanup after an accident or death may be required for wet, moist, or flaked blood from human bleeding. ServiceMaster EMT's specialists have the technical skills required for trauma and crime scene clean up in Los Angeles, CA .  Moreover, beyond their biohazard cleanup knowledge, they have the professional demeanor and discretion to understand the impact of these personal tragedies.
Crime Scene Cleaners
Soon after receiving your first call, our technicians will respond immediately because the bacteria and pathogens will spread to affect other areas. As soon as we arrive, our technicians will use personal protective equipment (PPE) during the initial inspection to determine the scope of the project.
All biohazards will then be removed as we place them into approved container. All remaining bacteria, viruses, and messes will be professionally removed using advanced products and processes. ServiceMaster EMT also ensures to work quietly and efficiently to not disturb grieving families. After all areas have been decontaminated, our technicians will work with your insurance provider during the claims process so you can focus on personal matters.
Trauma Cleanup
Our trauma scene clean up will help bring peace of mind after a tragic event, while providing safe and effective biohazard cleanup for incidents in Los Angeles, CA and the surrounding areas.  We also will work with your insurance company to help coordinate claims process.
What TO DO:
Secure the contaminated area from any further damage.
Leave air conditioning or heating at 70 degrees unless exposure to the outside prevents this.
Wear personal protective clothing if you must be in the contaminated area.
Remove any broken items not affected from the contaminated area once authorities have released the area for clean-up. Be sure to wear heavy gloves in handling broken glass or sharp items.
Take an inventory of items missing, broken or beyond repair for insurance and/or tax records.
Inform your insurance agent of the situation as soon as possible.
If an infectious disease is suspected (Hepatitis or AIDS), wait for further instructions from agent or authorities.
Call a professional restoration company to assist with returning the contaminated area to normal.
What NOT TO DO:
Do not enter the contaminated area unless absolutely necessary.
Do not risk contact in contaminated area with bare skin. If exposed, wash thoroughly with soap and water.
Seek medical attention if an infectious disease is known or suspected.
Do not touch or move any items until authorities have completed their investigation.
Do not attempt to clean the contaminated area unless using a proven disinfectant.
Contact Us
For trauma scene cleanup or biohazard cleanup services in the Los Angeles, CA area, contact ServiceMaster EMT at (888) 767-9075.
---
Related Bio Scene and Trauma Scene Cleanup Services:
Crime Scene Cleaning  Anaheim, CA
Trauma Scene Cleanup Huntington Beach, CA 
Biohazard Cleanup San Diego, CA
Crime Scene Cleanup Lake Forest, CA
Crime Scene Cleaning Ontario, CA
Biohazard Cleanup Santa Fe Springs, CA
More Reviews