Unfortunately, some of us may find ourselves in a trauma situation in which biohazard materials may threaten the health of those in the area.  Biohazard materials require specialized training to be cleaned up safely and ServiceMaster EMT provides trauma scene and biohazard cleanup services for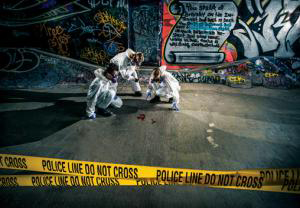 Huntington Beach, CA 92647 and Orange and L.A. counties.  Our staff has the training and necessary equipment to effectively clean up human biohazards from traumatic injury, suicides, homicides, or unattended deaths.  We also offer biohazard cleanup to remove germs and hazardous contaminants from flooding or sewage backup.
Biohazard Cleanup
Biohazard cleanup services are necessary for accidents or deaths in which there is blood, bodily fluids, or human tissues that need to be removed.  These materials can potentially contain harmful viruses or toxins that can spread illness or infection to humans that cannot properly handle them.  The technicians of ServiceMaster EMT have the specialized skills to completely remove and safely dispose of all biohazard materials.  Our staff also keeps a professional demeanor and works with discretion and compassion to help ease the suffering of those affected by the tragedy.
The trauma scene cleanup services provided by ServiceMaster EMT will safely restore the scene back to its natural state and bring peace of mind to those that must endure the tragedy.  We offer these services to Huntington Beach, CA 92647 as well as L.A. and Orange counties and work with insurance companies to coordinate any necessary claims.  Contact us 24 hours a day, 7 days a week at 949-877-1999 for trauma scene and biohazard cleanup services.
---
Related Trauma Scene Cleanup Services
Bio Scene and Trauma Scene Cleanup Services in Los Angeles and Lake Forest, CA
Trauma and Crime Scene Cleaning in Anaheim, CA
Trauma Scene Cleaning in San Diego, CA
January 16, 2020
Chris arrived within an hour of our first call to our insurer on Jan 3. He quickly set up drying equipment. When the plumber IDd another leak, Chris quickly set up more drying equipment, so the drying process began within a few hours of leak ID (as soon as plumber was done.) Jason came promptly to do the teardown. All was dry within a day, and Chris came back very quickly again to remove the equipment. All was polite, clean and quick.
More Reviews