949-877-1999
Hoarding is the result of a disorder that develops gradually over time and as the condition gets worse, the collected hoard can create dangerous living conditions inside the individual's home.  People that struggle with hoarding collect everything from newspapers, food containers, and paper products to trash and animals which could harbor harmful bacteria and block access to areas of the home if the collected hoard gets big enough.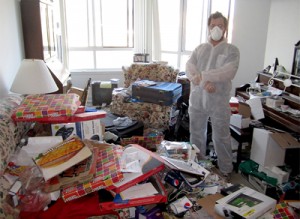 ServiceMaster EMT provides hoarding cleaning services to help those that struggle with hoarding in Huntington Beach, CA and the towns in Orange and LA County.  Typically a friend or family member must act on behalf of a hoarder and our technicians can help you clean out the home of a hoarder and restore it to a safe living condition.
Hoarder Cleaning Huntington Beach, CA
The technicians of ServiceMaster EMT are fully certified to handle hoarding cleanup projects and we make sure to take a compassionate approach because we understand that hoarding is a delicate situation.  We start by removing the hoarded items from the home and we will consult with the individual about saving valuable items and personal keepsakes.  The entire home is then cleaned, disinfected, and deodorized and we have the proper training and equipment to clean up and remove mold and other biohazard materials such as bacteria, bodily fluids, and dead animals.
We are fully licensed, insured, and certified to provide hoarder cleaning services and we comply with the rules and regulations of OSHA, the EPA, and the Department of Transportation.
Our complete hoarder cleaning services include:
Decontamination: We clean and decontaminate every area of the home once the hoard is removed for more sanitary living conditions.
Deodorization: We can remove lingering odors with our deodorization equipment and products.
Disposal: All discarded items and biohazard materials will be safely transported away for proper disposal.
Get a Free Estimate
Hoarding is a serious concern as it can have major implications to those that struggle with the disorder.
If you have a friend or family member in Huntington Beach, CA that struggles with hoarding, contact ServiceMaster EMT at 949-877-1999 for hoarding cleaning services. 
---
Related Hoarding Cleaning Services:
Hoarder Cleanup Services Lake Forest, CA
Hoarding Cleaning Anaheim, CA
Hoarding Cleaning San Diego, CA
Hoarding Cleaning Ontario, CA
Hoarding Cleaning Lake Forest, CA
More Reviews