(858) 225-8866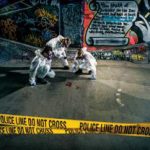 If you come across a violent crime or serious accident, the experience may leave you traumatized. However, for your own safety, you need to know how to appropriately act in such a situation. Usually, violent crime and trauma scenes contain blood and other biohazard materials. If these materials are not handled or cleaned properly, then they can spread disease and infection.
In San Diego, CA, ServiceMaster EMT helps clean biohazard materials from homes and businesses by providing them with trauma and crime scene cleaning services. In addition to removing blood and other bodily fluids from crime and trauma scenes, our technicians are capable of removing and cleaning sewage, mold, and other biohazard materials.
Biohazard Cleaning
Every one of the technicians we employ at ServiceMaster EMT is properly trained and certified to conduct removal and cleaning of blood, mold, tissues, dangerous chemicals, sewage backups, and all kinds of biohazard materials.
Our technicians are geared with personal protective equipment (PPE) that keep them safe, and we use the industry's best cleaning products and equipment. It's important that only a certified professional cleans biohazard materials because these materials contain hazardous bacteria and toxins that have the potential to spread infection and disease. Furthermore, our biohazard cleaning services comply with state and OSHA health regulations.
The following can be cleaned within our services:
Violent crime scenes
Unattended death scenes
Homicides and suicides
Serious injuries
Flood damage
Mold and mildew growth
Sewage backups
Chemicals and paint
Hoarding cleaning
Trauma and Crime Scene Cleaning
If your property is the site of a serious accident or violent crime that has resulted in a severe injury or death, then you need to act immediately. In the case of a crime, call law enforcement. Then, get in touch with ServiceMaster EMT to have our professional technicians clean and restore the scene.
We are trained to cooperate with law enforcement officials working the scene, so we can conduct our services without jeopardizing the investigation. Additionally, our technicians are always compassionate and work discreetly, knowing that clients may be grieving.
Our trauma and crime scene cleaning services involve the following:
Technicians who are not only highly trained but are also respectful and compassionate
Thorough biohazard material removal, including cleaning and disinfection of affected areas
Safe, proper biohazard material disposal at a licensed facility
Compliance with safety standards and regulations at the local, state, and federal levels
If you come across a trauma or crime scene that involves biohazard materials, then you need to be cautious. Biohazard materials can spread infection and disease, making them unsafe to handle. Get in touch with ServiceMaster EMT for the trauma and crime scene cleaning services we provide in San Diego, CA.
Our technicians have the proper training, expertise, and gear to safely and effectively clean and restore these scenes. We are also always compassionate and respectful in our work, knowing clients might be grieving.
Contact Us
For these services in San Diego, CA, call (858) 225-8866, where we can be reached at any time of the day.
---
Related Trauma Scene Cleaning Services:
Trauma Scene Cleanup in Huntington Beach, CA
Bio Scene and Trauma Scene Cleanup Services in Los Angeles and Lake Forest, CA
Trauma and Crime Scene Cleaning in Anaheim, CA
December 3, 2019
George Carlson
Apple Valley, CA
November 22, 2019
Your guys dud a great job shoring up our brick wall. I never expected someone to drive through it and almost wind up in my pool so it was an emergency situation as I live on a very busy street and can't have an unsecured pool. So even though they had to come at 7:30 pm to do this work they did even cleaned up some of the bricks that were very close to the edge of the pool.
More Reviews