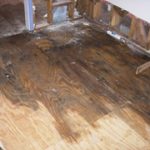 Mold can grow anywhere there are elevated moisture levels. Not only is it unsightly, but once it gets inside walls, it can spread throughout your home unnoticed. Mold not only damages property, but it causes serious respiratory and other health problems. ServiceMaster EMT provides comprehensive mold remediation services to the San Diego, CA area. We completely remove the mold from your home or business and repair or replace damaged surfaces.
There's no sense in cleaning up mold until the source of the water that caused it is found and repaired. That's why our technicians start by inspecting the property for any signs of moisture exposure. This helps determine the length of exposure time, how much moisture was absorbed, and how deeply it was absorbed into surfaces.  This information allows us to put together a detailed plan of action to remove mold growth using the most advanced cleaning procedures and products available. We take every precaution to protect our workers, clients and their property from the dangers of mold.  We also make sure the mold won't spread and cause further damage.
Our comprehensive mold removal process includes:
Finding and repairing the source of the moisture;
Cleaning and/or repairing surfaces;
Preventing the spread of the mold.
Mold can be very dangerous and isn't something that can be cleaned as part of a DIY project. If you see any signs of mold damage in your home or building in the San Diego CA area, call the professionals at ServiceMaster EMT at (858) 225-8866. We're on call 24/7.
---
Related Mold Remediation Services
Mold Removal Services in Santa Fe Springs, CA
Mold Remediation in Huntington Beach, CA
Mold Remediation in Anaheim, CA