(858) 225-8866
Not all natural disasters are destructive, but cases of strong storms, water damage, fire damage, and mold infestations can leave properties severely damaged. Properties that have sustained serious damage are at risk for additional damage from outside sources, such as rain and stray animals. Without immediate action, your property may also be at risk for collapse.
ServiceMaster EMT offers 24/7 board up and tarping services to homes and businesses in the San Diego, CA, area to stabilize the structure of the building and prevent further damage. Our technicians will respond immediately and start the recovery process as soon as they arrive.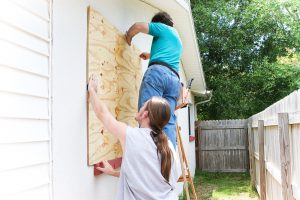 Board Up Services San Diego, CA
It is common for properties to sustain structural damage after floods, fire damage, vandalism, and other destructive events. This damage must be restored as quickly as possible because openings and holes in the siding of the property increase the risk of additional damage, like theft. Outside sources can drastically worsen the damage to your property, so call right away. Our technicians understand the urgency of the situation and work quickly to secure the building before they begin restoration.
Our services are available 24/7 and our trained professionals will board up the property and put tarp over the roof immediately after arriving onsite. ServiceMaster EMT uses professional equipment and processes to properly return your property to its original condition. We supply the necessary resources for restoration to spare you the frustration of working with multiple contractors.
Our board up and tarping professionals will:
Stabilize the structure
Board up all openings, holes, and broken windows
Put tarp over the roof to prevent water damage
Install barricades
Contact ServiceMaster EMT right away if your property has been damaged by a natural disaster of any size.
Emergency Response
Call ServiceMaster EMT at (858) 225-8866 for our 24/7 emergency board up and tarping services in San Diego, CA.
---
Related Emergency Board Up and Tarping Services:
Board Up Services Lake Forest, CA
Board Up Services Anaheim, CA
Board Up Services Huntington Beach, CA
Board Up Services Los Angeles, CA
Board Up Services Santa Fe Springs, CA
Board Up Services Ontario, CA
April 10, 2021
Sandra Paredones
Fontana, CA
More Reviews