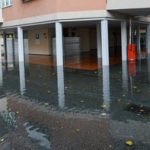 Unlike some other kinds of damage, water damage gets worse the longer it sits. Not only will items begin to rot, but mold and mildew will begin to grow quickly and irritate eyes and lungs. That's why it's so important to call ServiceMaster EMT at the first sign of water damage in the San Diego area. We'll arrive promptly with the industry's best products, procedures and equipment to clean and restore furnishings and building materials.
While you're waiting for our professionals to arrive, here are a few helpful things to do to make the process easier on everyone:
Use dehumidifiers to start removing moisture from the air.
If the outside temperature is above 60 degrees, open doors and windows to let in fresh air.
Wipe standing water from furniture and other items.
Remove area rugs.
Lift draperies out of standing water, loop them through a coat hanger and hang it from the curtain rod.
Move valuable and/or sentimental items to a safe location.
Open closet and cabinet doors to let air circulate.
You might be tempted, but there are things that shouldn't be done after a flood:
Don't use an ordinary household vacuum to remove water. It's not designed for that.
Don't use electrical appliances while on wet carpet or floors.
Don't go into rooms with standing water if the electricity is still on.
Don't remove tacked down carpeting without professional help. Removing it incorrectly can result in shrinkage.
Don't hesitate to call the professionals at ServiceMaster EMT. Mold and mildew grows within days.
Call ServiceMaster EMT at 858-225-8866 24 hours a day, 7 days a week for a quote on water damage restoration in the San Diego, CA area.
---
Related Water Damage Restoration Services
Flood Cleanup and Water Damage Restoration in Santa Fe Springs, CA
Water Damage Restoration in Huntington Beach, CA
Water Damage Restoration in Santa Ana, CA 
Water Damage Restoration in Los Angeles and Lake Forest, CA
Water Damage Restoration in Anaheim, CA