Whether it is from water damage, fire damage, or mold growth, severe disasters can cause significant damage to your property and personal belongings. Without immediate action, this damage can easily become permanent.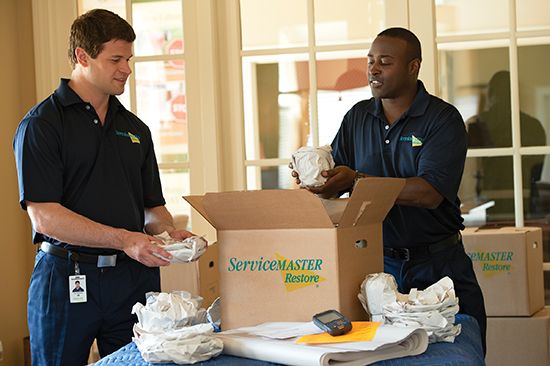 In San Diego, CA, ServiceMaster EMT helps damaged homes and businesses by providing them with content cleaning and pack-out services. Our technicians immediately respond to your call so that we can start the cleaning and restoration promptly. Our immediate help will prevent any damage from becoming permanent. Depending on your property's condition, we will conduct our work either onsite or offsite at our climate-controlled facility.
Content Restoration San Diego, CA
Some disasters will be so devastating that they not only destroy your property, but they damage your personal belongings as well.
In the event that your property is stable, ServiceMaster EMT will perform content cleaning on-site. Otherwise, if your property is unstable, we will use our pack-out services to safely bring your belongings for cleaning at our climate-controlled facility, where we will use advanced cleaning equipment and products to clean your contents.
We are experienced with cleaning and restoring numerous items, including the following:
Personal belongings
Furnishings and upholstery
Books and important documents
Electronics
Antiques
Artwork
Other similar unique items
Within our services, our technicians will thoroughly deodorize, repair, and sanitize your damaged belongings. We even help with the claims process.
Pack-Out and Storage Services
Sometimes, properties are unsafe, unstable, and/or unsecure in the aftermath of a disaster. If this is the case, we will clean and store your belongings at our climate-controlled facility. Our technicians carefully pack up your content and keep a detailed list to track them all.
ServiceMaster EMT will also give you and your insurance company copies of this list. While at the facility, your items will be effectively repaired, sanitized, and deodorized. Afterwards, we store your content until it's safe to return them to your property. This ensures your belongings remain safe and in good condition.
Available 24/7
Even though your belongings will not be in your property, you still get access to it all. All you need to do is work with our technicians to set up an appointment to access your belongings.
Call (858) 225-8866 to learn more about the content cleaning and pack-out services ServiceMaster EMT provides in San Diego, CA.
---
Related Content Cleaning and Pack Out Services:
Pack-Out and Board Up Services Huntington Beach, CA
Content Restoration and Pack Out Services Lake Forest, CA
Content Cleaning and Pack Outs Anaheim, CA
Content Restoration Santa Ana, CA
Content Restoration Santa Fe Springs, CA
More Reviews