(858) 225-8866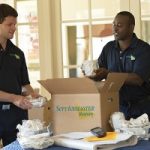 When you've suffered a disaster like a fire, earthquake or other catastrophe, securing your property might be the last thing on your mind, but it's important. Vandals and looters see occasions like this as opportunities. ServiceMaster EMT offers board up and pack-out services for clients in the San Diego, CA area to help protect their property.
Board up Service
Our board up service protects your property and secures it from further damage and vandalism. We work quickly to board up your home and work with your insurance company to expedite your claim. Knowing your property has been professionally secured by experts gives you peace of mind and lets you concentrate on other things.
Pack-out Service
ServiceMaster EMT also offers pack-out services to protect your personal belongings. If your home is so severely damaged that it can't be protected, our professionals will carefully pack up and move your possessions to one of our secure storage facilities. We inventory items as they are packed, and we'll store them until your home is ready. We'll also pack-out heavily damaged items that have suffered smoke and/or water damage and take them to our facility so they can be cleaned, restored, and deodorized.
If your home in the San Diego, CA area suffers disaster damage, call the technicians at ServiceMaster EMT right away. We'll secure your property with our board up services and protect your possessions with our pack-out services while you rebuild. Call us at (858) 225-8866 24 hours a day, 7 days a week.
---
Related Pack-Out and Board Up Services
Pack-Out and Board Up Services in Huntington Beach, CA
Pack-out, Dry Cleaning, and Board Up Services in Lake Forest and Los Angeles, CA
Pack-Out and Board Up Services in Anaheim, CA