When serious disasters strike, whether it's mold growth or water damage, your property and personal belongings risk being damaged in a severe manner. In order to prevent the damage from becoming permanent, you need to act immediately.
To tend to such issues, ServiceMaster EMT provides Anaheim, CA and the surrounding areas with content cleaning and pack-out services on a 24/7 basis. We will be immediate in our response so that we can be immediate in our cleaning and restoration, preventing permanent damage to your belongings. Based on the condition of your property, we will conduct our services either onsite or within our climate-controlled facility.
Content Cleaning in Anaheim, CA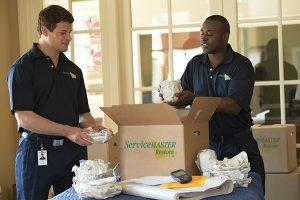 Certain disasters are so harmful that they damage your personal belongings.
If your property is secure and in a stable condition, we will conduct our content cleaning services on-site. If that's not the case, then ServiceMaster EMT will safely transport your belongings to our climate-controlled facility. At our facility, we will provide thorough cleaning of your items using our advanced equipment and products.
Our technicians have expertise with restoring and cleaning a myriad of items such as:
Antiques
Artwork
Electronics
Furnishing and upholstery
Important documents and books
Personal belongings
Similarly unique items
All damaged belongings will be deodorized, repaired, and sanitized in a thorough manner. We will also assist with insurance claims to make things easier for you. We can also provide water and fire damage restoration services for your property structure.
Pack-Out and Storage Services
When your property is unsecure, unstable, or unsafe, we bring your belongings to our climate-controlled facility to be cleaned and stored. ServiceMaster EMT packs your belongings carefully and track them by keeping a detailed list. This list is then given to you as well as your insurance provider. When your belongings get to our facility, our technicians deodorize, repair, and sanitize your belongings in an efficient and effective manner. Following restoration, we store your belongings in our facility until your building is in good condition.
Available 24/7
With our pack-out and storage services, you will still have access to all of your belongings. You just need to set up an appointment with a technician.
For more information or to request ServiceMaster EMT's content cleaning and pack-out services in Anaheim, CA, give us a call at (714) 975-8448.
---
Related Content Cleaning and Pack Out Services:
Content Cleaning and Pack Outs Lake Forest, CA
Content Cleaning and Pack Out Services Los Angeles, CA
Content Cleaning and Pack Out Company Huntington Beach, CA
Contents Restoration and Pack Outs San Diego, CA
Contents Restoration and Pack Out Company Santa Ana, CA
July 8, 2020
David Ayres
Las Vegas, NV
I have been very satisfied with the service and thoroughness of the personnel I have dealt with at a time when we needed help. They were guiding and professional in explaining the 'process' to get us through the needs of the developing "project fix". The timing was great to go from one step to the next. We dealt with Brandon with the initial field work and now with Tina at the stage where we need the coordination of the demo crew and scheduleing for remediation.
More Reviews