(714) 975-8448
Natural disasters can cause devastating losses for commercial properties as a business may experience property damage, loss of supplies and inventory, and a temporary shutdown while the damage is being repaired.  Your first priority in the event of a natural disaster is to ensure the safety of your customers and employees and call 911 if necessary.  Once everyone is safe and the disaster has been subdued, you must start the restoration of your property immediately.  The quicker you start the restoration process, the more you can limit the damage and the overall loss to your business.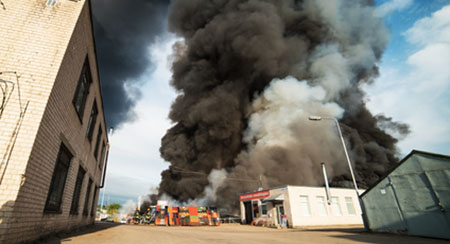 ServiceMaster EMT provides commercial damage restoration services in Anaheim, CA to restore damage to businesses caused by fires, flooding, mold, and severe storms.  Our technicians will start the restoration quickly to get your business back up and running and we will ensure that your employees return to a safe work environment.
Commercial Restoration Anaheim, CA
The best way to help limit the losses to your company after a disaster is to start the restoration process as quickly as possible.  Any hesitation to begin the restoration will result in further damage which will cost more money to restore, and more time spent out of commission which will add to the losses.  Our technicians work quickly to get the damage repaired so you can resume your normal business operations with minimal interruption.  We can respond to losses of any size in office buildings, warehouses, and other commercial settings and get the property restored to its pre-disaster state.
It is important for you to focus on the safety of your employees, customers, and anyone else in the building once a disaster strikes.  Your building should already have evacuation plans set and it is important that these plans are followed to ensure safe evacuation.  In addition to keeping your employees safe during the disaster, you need to ensure that their work environment is safe to return to after the disaster.
Our technicians are prepared to handle water damage, fire damage, and mold and we can remove dangerous materials that present a safety hazard to your employees.  We will not only clean and restore the damage to your property, but also improve the indoor air quality to protect the health of your employees.
Commercial Large Loss
For emergency commercial restoration services in the Anaheim, CA area, contact ServiceMaster EMT at (714) 975-8448.
Commercial Water Damage Restoration
There are so many ways that water damage can occur within a commercial building as weather conditions like rain and flooding can cause water damage as well as internal issues like pipe bursts and leaks.  Water damage must be addressed immediately, whether it's from standing water or a leak, because it will get absorbed in the surrounding building materials and furnishings which can lead to structural damage.  Excess water can also cause serious damage to your equipment or inventory, adding to the loss.
Our technicians are trained and equipped to contain the spread of the water to minimize losses and restore the resulting damage.  Our advanced water extraction and drying equipment can remove standing water and extract moisture from affected materials.
Commercial Fire Damage Restoration
Fires within commercial settings are extremely dangerous because they can cause extensive damage that results in large losses and put the lives of your employees and customers at risk.  The damage caused to the building and equipment by fires can amount to a significant loss for your company.  The damage doesn't stop when the fire is out as the leftover smoke, soot, and corrosive byproducts can continue to cause serious damage.
Our technicians can tackle any fire damage restoration project to reverse the effects of smoke and soot and repair the structural damage caused by the fire.  We will work quickly to complete the repairs limit the losses to your company and allow you to resume business operations.
For the most part, the occurrence of natural disasters is beyond your control, but you can limit their impact and the losses to your company by immediately calling ServiceMaster EMT for commercial restoration services.  Our technicians have the training and the equipment necessary to restore any size loss to your commercial property and get your company back in business.
Available 24/7
ServiceMaster EMT is available 24 hours a day at (714) 975-8448 for emergency restoration services in Anaheim, CA.
---
Related Disaster Restoration Services:
24 Hour Emergency Water/Fire/Smoke Restoration Lake Forest, CA
Disaster Restoration Santa Ana, CA
Disaster Restoration Huntington Beach, CA
Disaster Restoration Santa Fe Springs, CA 
Disaster Restoration San Diego, CA 
Disaster Restoration Los Angeles, CA
May 2, 2021
Sandra Hunt
Las Vegas, NV
Brandon did an excellent job on water damage demo work. He is extremely knowledgeable, punctual and goes out of his way in the areas of communication, cleanliness/protection of affected/non affected areas and worked tirelessly to get the job done-including weekends. I would highly recommend Brandon with Service Master Restoration
More Reviews