949-877-1999
Water damage, fire damage, and mold can all cause serious damage to your personal belongings and the structure of your building. This damage can easily worsen and become permanent if it is not addressed right away.
ServiceMaster EMT provides content cleaning and pack-out services for damaged homes and businesses in the Santa Fe Springs, CA, area. Our technicians will respond right away so we can quickly begin cleaning and restoring the property. We understand that acting swiftly prevents permanent damage and we take this concern seriously. We will work either on the property or at our offsite facility depending on the severity of your property's damage.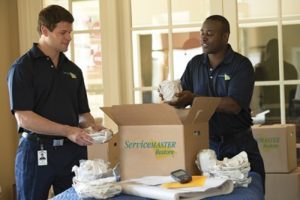 Content Cleaning Services Santa Fe Springs, CA
Some disastrous events do so much damage that it destroys not only your property, but your personal belongings as well.
ServiceMaster EMT will perform onsite content cleaning if your property is stable, but if not, we will perform our pack-out services to transfer your belongings to our climate-controlled offsite facility. Once there, our professionals will use advanced cleaning products and equipment to clean your belongings before returning them to you.
We will efficiently clean and restore the following items:
Personal belongings
Upholstery and furnishings
Important documents and books
Electronics
Photos and artwork
Antiques
Other similar items
Our technicians will thoroughly sanitize, deodorize, and repair your damaged belongings and assist with the claims process after the restoration is finished.
Pack-Out Services
In the case that your property is unstable or unsafe, our technicians will pack up your belongings and move them to our offsite facility. We will carefully store and clean your belongings at the facility and keep a detailed list of them for your records.
ServiceMaster EMT will provide you and your insurance company with copies of the list. After your belongings are deodorized, sanitized and repaired, we will store them at our offsite facility until it is safe to return them to your property.
Available 24/7
You will have complete access to all your belongings in our storage facility. Work with our professionals to make an appointment and you can easily access your personal items.
Call (949) 877-1999 for ServiceMaster's professional content cleaning and pack-out services in Santa Fe Springs, CA.
---
Related Content Cleaning and Pack Out Services:
Contents Restoration and Pack-Out Services Huntington Beach, CA
Content Cleaning and Pack-Out Services Lake Forest, CA
Content Cleaning and Pack-Out Services Anaheim, CA
Contents Restoration Los Angeles, CA
Content Cleaning and Pack Outs  Santa Ana, CA
Content Cleaning and Pack Outs San Diego, CA
Content Cleaning and Pack Outs Ontario, CA
March 2, 2021
Michael Jelley
Colton, CA
We were impressed with Service Masters promp response the same evening that we called, starting the demo and mitigation immediately. They tracked the moisture in the walls and ran their equipment until the walls and wood were completely dry; which took amost a week. Thank you for the professional, polite team. Great work guys! Thank you, Mike and Jackie
More Reviews