949-877-1999
The carpet in a home is susceptible to daily wear and tear from the foot traffic it experiences and if the carpet does not receive the proper care, dirt and other debris will build up within the fibers which could diminish its appearance and longevity.
ServiceMaster EMT offers professional carpet cleaning services in Santa Fe Springs, CA as well as Orange and LA County.  These services will increase the appearance and durability of your carpet and we also offer regularly scheduled cleanings to businesses to keep them maintained on a consistent basis.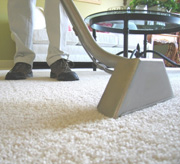 When you call ServiceMaster EMT for carpet cleaning services, we typically schedule an appointment within a few days of the call.  Our trained staff uses the best cleaning products and procedures to effectively clean all types of carpet including wool and berber.
Carpet Cleaning Services Santa Fe Springs, CA
Our carpet cleaning procedure consists of several steps to ensure that we provide a thorough cleaning.
We perform a pre-inspection to determine the best cleaning method.
Pre-treat spots and stains.
Pre-apply shampoo to loosen dirt and debris.
Rinse the carpet with clear hot water.
Post-treat residual stains.
Groom the carpet for improved drying and appearance.
Protect the carpet by putting pads under furniture legs.
Perform final inspection with homeowner.
Call for Free Estimate
If you would like to schedule a carpet cleaning appointment for your home or regular carpet cleaning services for your business, contact ServiceMaster EMT at 949-877-1999 for a free estimate.  We have the training and expertise to effectively clean all types of carpet for homes and businesses in Santa Fe Springs, Orange County and LA County.
More Reviews