949-877-1999
Hoarding is a psychological condition that drives a person to hide or store an extensive collection of items. Hoarders collect a wide variety of things, such as newspapers, trash, animals, and more. Any of these items could harbor disease or bacteria and thus, the hoarder's collection puts their health at risk.
If the hoarding becomes excessive, the collection of things may block off certain areas of the home or fall on someone, resulting in serious injury or death. ServiceMaster EMT provides professional hoarding cleanup services in Santa Fe Springs, CA. We will clean and restore the home to its safe, original condition for you, a family member, or whoever it is close to you dealing with a hoarding problem.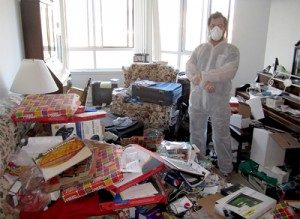 Hoarding Cleanup Santa Fe Springs, CA
Our certified technicians at ServiceMaster EMT know hoarding is a difficult situation and will take an understanding and compassionate approach. We will communicate with the homeowner about which items are okay to remove and which are valuable and should be kept. After we have emptied the house, our professionals will deodorize, disinfect, and clean the property. Our technicians are also trained to safely remove biohazards like dead animals and bacteria.
Our certified and licensed team complies with all safety regulations from OSHA, the EPA, and the Department of Transportation.
Our 3-step hoarding cleanup process includes:
Decontaminating and cleaning the entire home after all hoarded items are removed
Removing lingering odors with our deodorization equipment and products
Safely transporting biohazard materials for proper disposal
Free Estimate
Hoarding is a serious psychological condition that can cause damage to a person's property and health. If you or someone you know is struggling with a hoarding disorder, call ServiceMaster EMT at (949) 877-1999 for our 24/7 hoarding cleanup services in Santa Fe Springs, CA.
---
Related Hoarding Cleaning Services:
Hoarding Cleanup Huntington Beach, CA
Hoarding Cleaning Lake Forest, CA
Hoarding Cleanup Los Angeles, CA
Hoarding Cleaning  Anaheim, CA
Hoarding Cleaning San Diego, CA
Hoarding Cleaning Ontario, CA
More Reviews